Estimated read time: 2-3 minutes
This archived news story is available only for your personal, non-commercial use. Information in the story may be outdated or superseded by additional information. Reading or replaying the story in its archived form does not constitute a republication of the story.
News Specialist Debbie Dujanovik reportingSalt Lake Valley police detectives are hoping news viewer tips will help the crack the case of two bandits they say are terrorizing store clerks in two counties.
What police originally thought to be the work of one armed robber may be the work of two men. Polcie say the two are just switching off a "fishing" cap and gold-plated handgun.
Police say the bandits held up clerks at a Tesoro gas station in Sandy, and what appears to be more than a dozen other small businesses.
Detectives are working cases in Bountiful, Salt Lake City, Murray, Taylorsville, Draper, and Sandy. And there are probably many more cases out there.
Police say one of the suspects hit one sandwich shop - Quiznos in Draper--- two times.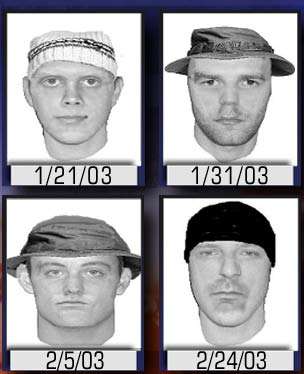 One of the clerks who was on duty both times was apparently so terrorized, according to Sheriff's investigators - she quit her job.
Inside a hair cutting shop, the victims were all shoved into a bathroom and locked up inside.
Police say that's when the robber made off with the money.
In most cases, witnesses say the suspect will keep the gun in his waistband, lift up his shirt, flash the weapon, take the money, then demand the victim wait at least 60 seconds before calling police.
The reason detectives now believe there are two suspects taking turns at committing these crimes is because the descriptions vary. In some cases, witnesses describe the robber as 5' 11" 180 pounds, a medium built white male.
In others they say he's shorter - only 5 foot 7 about 160 pounds and 23 to 24 years old.
Victims seem to remember a hat at almost every robbery that says Osh Kosh b'gosh on the front - which is a clothing brand.
If you have any information, you can contact your local police department and ask for a the robbery detective.
×
Most recent Utah stories