Estimated read time: 3-4 minutes
This archived news story is available only for your personal, non-commercial use. Information in the story may be outdated or superseded by additional information. Reading or replaying the story in its archived form does not constitute a republication of the story.
News Specialist Jed Boal reporting A five alarm fire roared through a downtown strip mall Monday morning. Firefighters are calling it the most intense fire they've seen in years.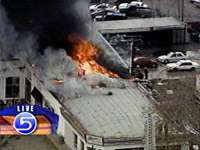 It first appeared as small wisps of smoke seeping from a business in the corner of the strip mall. Within an hour. 30-foot flames licked the sky, threatening an apartment building next store.
When it was over, seven small businesses were gutted.
When KSL-TV's crew arrived shortly after nine o'clock this morning, there were no flames, only smoke. Then, it erupted into an inferno.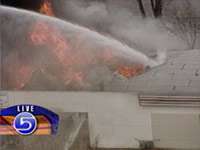 The fire became so intense that it melted the window blinds in the apartment building next door, and bubbled up the walls.
Scott Freitag/Salt Lake City Fire Department: "NOT ONLY IS IT SCARY, BECAUSE THE FIRE IS OUT OF CONTROL...BUT, IT'S DISHEARTENING FOR THE FIREFIGHTERS, TOO BECAUSE IT'S THEIR JOB TO PUT THAT FIRE OUT."
It's been more than three decades since Salt Lake City has fought a five alarm fire.
"IT WAS ONE OF THE HARDEST WE'VE HAD TO FIGHT IN SEVERAL YEARS."
Shortly after nine, a worker at a shipping company saw smoke filtering into his office and called 9-1-1.
Chris Filimoehala/Store Employee: "WITHIN A MATTER OF 60 SECONDS, YOU COULD SEE SMOKE HAD SPREAD THROUGH THE ENTIRE ROOF OF THE BUILDING."
The smoke spread quickly. Within a half-hour, thick swirls of flame started to devour the center of the mall, and spread to each neighboring office.
Firefighters evacuated a brick apartment building 10 feet away threatened by the fire.
Scott Freitag/Salt Lake City Fire Department: "THERE WAS SO MUCH THAT COULD BURN...AND IT BURNED SO QUICKLY."
Todd Holbrook opened his realty business six months ago. This morning, he was lucky to get out alive.
Todd Holbrook/Business Owner: "THE SMOKE WAS SO DENSE, IT WAS UNBELIEVEABLE ...YOU COULD NOT SEE OR BREATH ANYWHERE. WE WERE JUST BARELY ABLE TO GET OUT."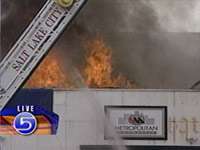 Firefighters believe the fire srtarted in one of several false ceilings added during remodelling. Investigators will look for the specific cause.
Scott Freitag/Salt Lake City Fire Department "THIS WAS ONE OF THE LARGEST FIRES WE'VE HAD IN A LONG, LONG TIME. A LOT OF THINGS WENT AGAINST US IN TRYING TO GET IT KNOCKED DOWN."
Firefighters say they did not have adequate water supply due to the road construction on South Temple.
That construction also kept them from getting in closer.
Investigators will also check to make sure the building was up to code.
Scott Freitag/Salt Lake City Fire Department: "WE DON'T KNOW OF ANY PROBLEMS THAT WERE GOING ON AT THE TIME, BUT CERTAINLY, WE WILL BE LOOKING TO MAKE SURE ALL THE I'S ARE DOTTED AND THE TEE'S ARE CROSSED, SO TO SPEAK."
Firefighters will be here through much of the evening, pulling out debris, and making sure there are no hot spots. The investigation into the cause of the fire is underway. The fire department has all investigators on it. They want to find out if there were problems that could have been prevented.
×
Most recent Utah stories