Estimated read time: 2-3 minutes
This archived news story is available only for your personal, non-commercial use. Information in the story may be outdated or superseded by additional information. Reading or replaying the story in its archived form does not constitute a republication of the story.
SALT LAKE CITY (AP) -- Residents of Salt Lake City gathered again Friday night for Elizabeth Smart -- but this time it wasn't for a candlelight vigil or an organized search of the foothills.
This time it was to celebrate.
Elizabeth wasn't in attendance at the party in Liberty Park in midtown Salt Lake City, but she sent along a handwritten poster reading, "I'm the luckiest girl in the world! Thank you for your love and prayers. It's a wish come true!! I'm home! I love you all."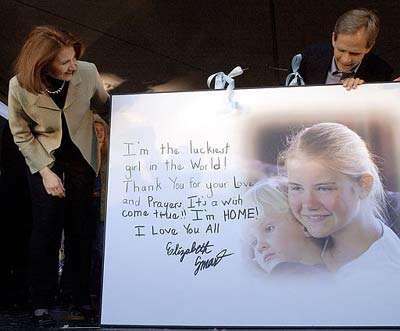 Several thousand supporters gathered at the park to celebrate her safe homecoming, and pay tribute to the massive search effort that helped find her. After intermittent rain throughout the day, the sun broke through just before Mayor Rocky Anderson took the microphone.
"Nine months ago many of us gathered at this same spot, in a somber, sad but still hopeful moment," he said. "Now we gather in joy."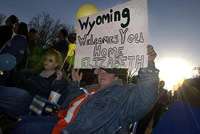 Ed and Lois Smart made a surprise appearance at the celebration, thanking the crowd and basking in the joy of having their daughter home.
"She could hardly wait for a bubble bath," gushed Lois Smart. "And I told her she could have as many as she wanted."
The party featured bands, an American Indian drum group and a performance by former Utah Jazz basketball player and current singer Thurl Bailey. Ribbons and balloons in Elizabeth's favorite colors -- blue and yellow -- were everywhere.
Kathy Haggerty, 32, and Annie Bowen, 22, left their Evanston, Wyo. home at 12:30 p.m. to make sure they were early for the festivities.
"It's great news and we wanted to be a part of it," Haggerty said. "I've been watching it for nine months, hanging signs in Wyoming ... and I wanted to welcome her home."
Families munched on pizza, hot dogs and soda as the sun set behind the crowd.
Peggy Rowland, 52, of West Jordan, spent six days last summer searching through neighborhoods for Elizabeth. Friday, she carried a bouquet of balloons and wore a button of Elizabeth's photo that read simply "found."
"I feel just wonderful. Things like this just don't happened," Rowland said.
(Copyright 2003 by The Associated Press. All Rights Reserved.)
×