Estimated read time: 2-3 minutes
This archived news story is available only for your personal, non-commercial use. Information in the story may be outdated or superseded by additional information. Reading or replaying the story in its archived form does not constitute a republication of the story.
Jed Boal Reporting If it feels as though our communities have wrestled with a lot of death so far this year, they truly have. The Trolley Square shootings, fatal car crashes and avalanches all bring psychological stress to the community. Those deaths also take a toll on the people who work with the dead, for the living.
I went to the State Medical Examiner's office. It's not an easy topic to discuss, but the workload has spiked for this office.
Shooting victims, car crash victims and avalanche victims all end up at the State Medical Examiner's Office. Chief Medical Examiner Todd Grey has led the office nearly two decades.
Todd C. Grey, M.D., Chief Medical Examiner: "Essentially we're doing more and more and more with the same level of resources that we've had for a very long time."
So far this year there have been 18 to 20 percent more cases than last year.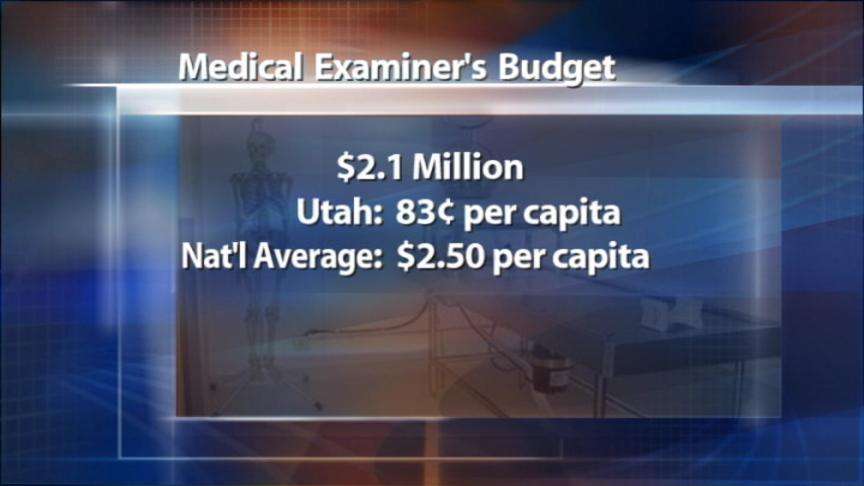 The office reached case number 306 today. Last year case number 306 arrived March 3. And 2006 was the busiest year ever.
Dr. Todd C. Grey: "Last week, with the events at Trolley Square, put an additional burden on an already-stressed system."
Autopsies on murder victims are complex and time-consuming. The Trolley Square shooting delivered six in one day.
Dr. Todd C. Grey: "That's in addition to the steady drumbeat of cases we're already experiencing."
Those who would choose this job know what they're in for. But at the same time, they have a natural human response.
Dr. Todd C. Grey: "A week like last week, where people are flicked out of existence, those are hard cases to emotionally get behind."
Twelve full-time employees work there. The medical examiner wants funding for two more. The office has an annual budget of $2.1 million. That's about 83 cents per capita. Dr. Grey tells us the national average is about four times that amount, around $2.50 per capita.
Dr. Todd C. Grey: "Every day, seven days a week, 365 days a year. We deal with it."
Cuts in services may be inevitable if the office does not get a budget increase.
Doctor Grey told me urbanization, increasing population and the surge in prescription drug overdoses all contribute to the growing workload.
×
Most recent Utah stories