Estimated read time: 2-3 minutes
This archived news story is available only for your personal, non-commercial use. Information in the story may be outdated or superseded by additional information. Reading or replaying the story in its archived form does not constitute a republication of the story.
Karen Scullen reporting Al- Jazeera, the popular Arab television network, is having a tough time getting information out on it's website. Computer hackers took over this morning, and sent everyone to a patriotic website. That website just happened to have been set up through an internet provider here in Salt Lake City.
Networld is just a small company with only 19 employees. But because of a mystery computer hacker, the networld name is getting world-wide attention very fast.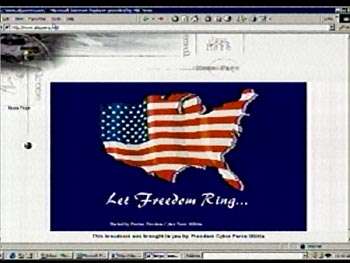 Aljazeera T.V. has come under fire from critics for airing video of dead and captured U.S. soldiers. Early this Thursday morning, a computer hacker blocked access to the T.V. website by using Salt Lake internet provider Networld Connections. But Networld had nothing to do with the hack-attack.
Ken Bowman/Pres., Networld Connections, Inc.: "THESE GUYS KNOW WHAT THEY'RE DOING AND THEY GOT CONTROL OF THE SITE, AND IT TAKES A LOT OF EXPERIENCE, HACKING EXPERIENCE I SHOULD SAY."
To put it simply, here is what happened: For those people trying to get to aljazeera-dot-net, they all started off on the right track, but a hacker intervened, took control, and re-routed everyone in a totally different direction. Aljazeera web-inquiries ended up on a webpage with the message, "Let Freedom Ring". The page was signed, "Hacked by Patriot, Freedom Cyber Force Militia."
Networld employees arrving to work today were pummelled with wake up calls from around the world.
Ken Bowman: "WE RECEIVED AN EMAIL FROM AN ANONYMOUS USER SAYING WE HAD HIJACKED ALJAZEERA-DOT-NET'S WEBSITE. WE SAW THAT AND SAID WAIT A MINUTE, THIS IS NOT US, WE DIDN'T DO THIS."
By early afternoon, hundreds of thousands of e-mails had been sent to Networld, addressing the provider as the cyberforce militia. One said: "You're so-called "freedom" initiative is doing a great disservice to the reputation of our country as a defender of free speech." Another said: "... much to my surprise I get this big american flag and I'm thinking Hell Yeah "
But the small internet provider is only Guilty of offering a free site-builder.
Ken Bowman: "WE HAVE IT THERE FOR FAMILY MEMBERS TO PUT THEIR FAMILY PORTRAITS THERE TO DO INFORMATION LIKE THIS, NOT TO GO FIGHT BATTLES WITH."
So while the Aljazeera website is being assaulted now, Networld is getting hit in a counter-attack. People from around the world are sending so much "garbage" aiming at it keeps knocking Networld off-line.
Networld has no way of knowing or finding out who's responsible for the interference, the hacker put in false information. The internet provider has taken the website down.
×
Most recent Utah stories