Estimated read time: 2-3 minutes
This archived news story is available only for your personal, non-commercial use. Information in the story may be outdated or superseded by additional information. Reading or replaying the story in its archived form does not constitute a republication of the story.
Karen Scullin reporting Last night Eyewitness News took you to the sight where Elizabeth Smart was held captive for months, following her kidnapping in June.
Crime Specialist Karen Scullin takes an even closer look at the mountain hideout, and takes you to several other campsites where Elizabeth and her kidnappers stayed.
If you take a hard look at the mountain camp, it's very obvious alleged kidnapper Brian Mitchell put a lot of work into the structure.
But there was a lot of time spent preparing other nearby campsites as well.
The remote campsite high on a mountainside is where investigators on the Elizabeth Smart case gathered much of their evidence. Knives, and the cable allegedly used to tie Elizabeth to a tree, were recovered from the site. But what continues to amaze everyone who sees it, is that it's so solid and well-built, outside and in. Many of the trees are cut to interlock. The lean-to style roof has dozens of logs cut to fit.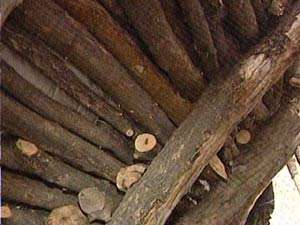 Investigators believe Brian Mitchell had the kidnapping plan all laid out when he started construction on this underground campsite.
When search helicopters were out, the three apparently hid in in the underground campsite. When the coast was clear, they stayed just outside of the camp in an area that was leveled for a tent.
Just above the shelter is the remains of a campfire, and it's believed this contraption was used for cooking.
The overall layout looks like this: campsite here,with the tent area to the side. Just above and to the right is the campfire. Down below is the cooking facility.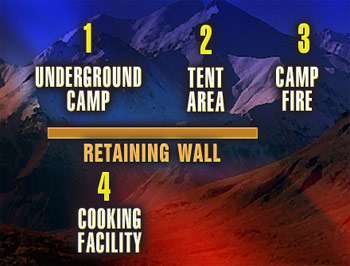 But several hundred feet down, through the scrub oak and deep in the canyon, are other camping hideaways. Detectives believe the weather dictated where they camped.
This is where the three stayed in a teepee Mitchell put together. A ladder with screws holding each rung in place was found nearby. It's known as the "lower camp." None of the camps is easy to find... all of them diguised by miles of mountainside brush.
It's a sure bet prosecutors will not only use the evidence gathered from the site but also a small scale model of the entire campsite in their case. The case moves forward in third district court later this month.
×
Most recent Utah stories