Estimated read time: 1-2 minutes
This archived news story is available only for your personal, non-commercial use. Information in the story may be outdated or superseded by additional information. Reading or replaying the story in its archived form does not constitute a republication of the story.
Cawley was a Marine Reservist, a Salt Lake City police officer, and the first Utahn to die in the war in Iraq.
Today he was honored at home.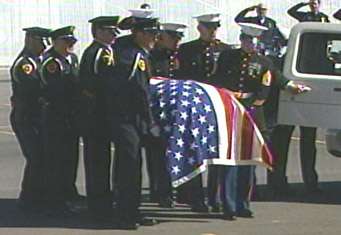 Nearly 1,000 members of the police, military, and community paid respects to Utah's first fallen soldier.
Leading the group at the arrival of the casket was Cawley's sister, Julie Hansen, a member of the Mormon Tabernacle Choir. About 100 other choir members performed a tender rendition of "America the Beautiful."
Cawley served both his city and country, but was said to be a man who put his family first.
Salt Lake Police Detective Mark Shuman was Cawley's partner on the force. Of Cawley's professionalism Shuman reflected, "As a teammate, Jim was rock solid. He was the material with which teams are founded. He was a master technician and was a wealth of knowledge. His skills and a strong work ethic made for a strong teammate."
The final speaker for the service, Elder Bruce D. Porter of the First Quorum of the Seventy of the Church of Jesus Christ of Latter-day Saints, shared a letter of comfort authored by the Church's First Presidency.
Sgt. Cawley met his wife Miyuki in Okinawa, Japan when he was stationed there. They have 2 children, an 8-year-old son, and a 6-year-old daughter.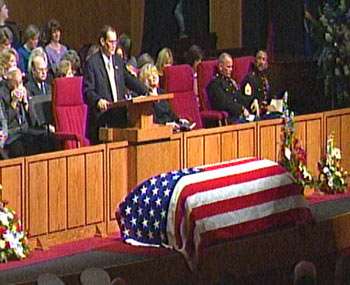 Cawley died on March 29th in a Humvee accident in Iraq. Sgt. Cawley's body was returned home Sunday evening.
The funeral procession, accompanied by full police honors, is headed to Roy, where the body will be interred.
×
Most recent Utah stories