Estimated read time: 4-5 minutes
This archived news story is available only for your personal, non-commercial use. Information in the story may be outdated or superseded by additional information. Reading or replaying the story in its archived form does not constitute a republication of the story.
LOGAN - A near triple-double by Franklin Session helped the Weber State Wildcats (6-5) open up the Basketball Traveler's Invitational, hosted by Utah State in Logan, with a strong win against the Titans of Cal State Fullerton (4-4), 82-71.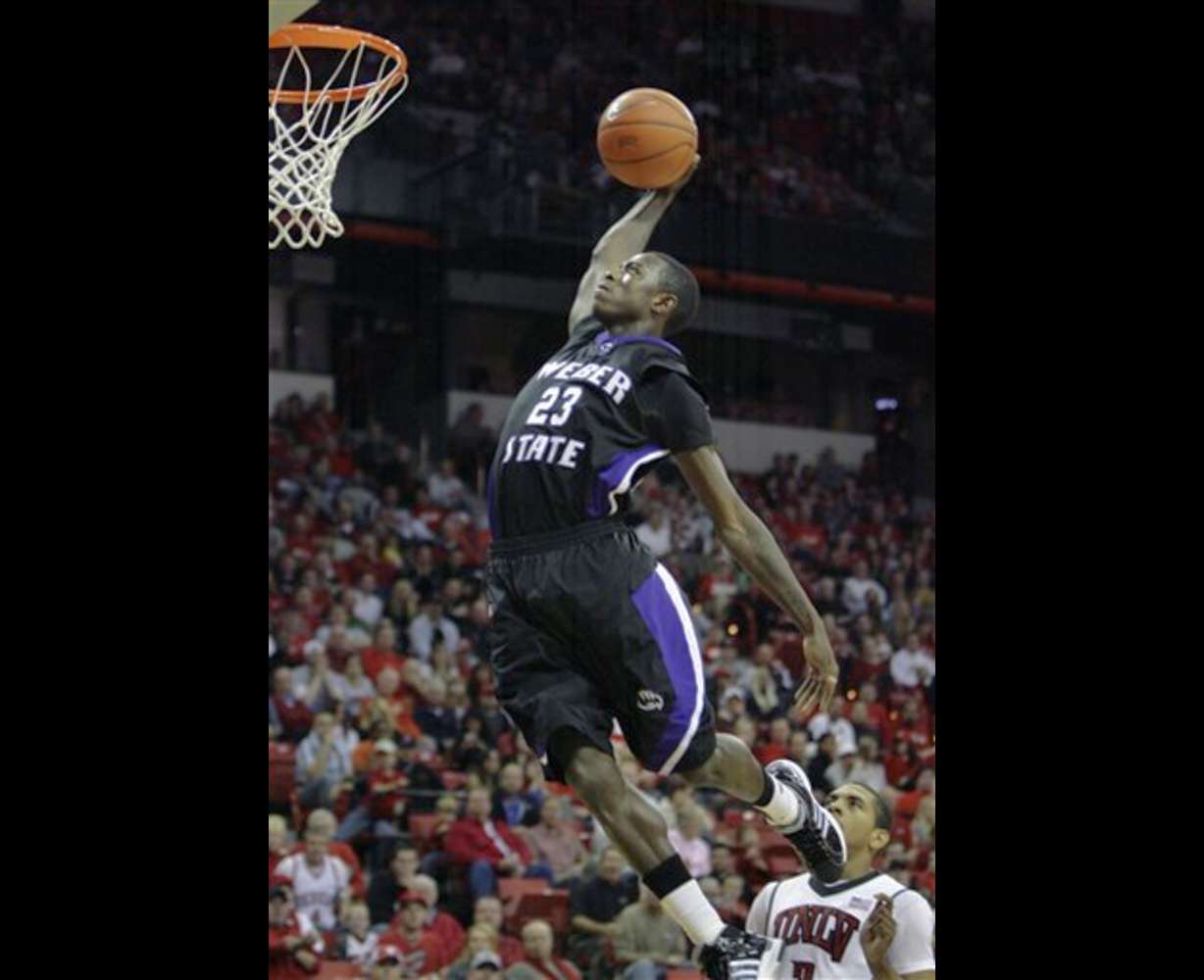 Session finished the night one assist shy of a triple-double; 14 points, 13 rebounds and nine assists.
"I thought he played terrific, he had a really good mindset, he's been playing that way," said Weber State Head Coach Randy Rahe. "He plays with such high energy and aggressiveness. He's a stat stuffer; that's what he is."
Point guard Damian Lillard was back in old form for the Wildcats scoring a team-high 20 points and dishing out three assists.
Lillard had been mired in a mini-slump as teams focused their defensive schemes to stop him. Coach Rahe was glad to have his guard back on his game and out of his slump.
"We needed him. Second half I thought he got his aggressiveness back. He got his confidence back; he got his swagger back," he also added. "He such a good player and such a good kid that eventually he is going to break out of it."
The Wildcats needed Lillard and Session in the second half after giving up a 15-point first half lead.
Related:
Weber State started hot and got up big after a 14-3 run, fueled by three 3-pointers by Lindsay Hughey, who finished with 14 points.
But a pivotal timeout by the Titans propelled them into an 11-1 run fueled by a series of Wildcat turnovers. Weber State's lead quickly melted away and the Wildcats went into halftime down three on after a buzzer-beating 3-pointer by Titan Jacques Streeter.
Rahe inspired his team at halftime by telling them what they needed to do to turn the game back in their favor.
"Either we are going to be the more aggressive team in the second half and then we'll have a chance going down the stretch, or we're not, and they're going to beat our butt," Rahe said chastising his team. "So either way the more aggressive team is going to win the game."
---
He plays with such high energy and aggressiveness. He's a stat stuffer; that's what he is.
–WSU Head Coach Randy Rahe on Franklin Session
---
Weber State was just that in the second half- aggressive. They quickly regained the lead and after a 12-turnover first half, were able to keep the lead by only turning the ball over three times.
The Wildcats pushed to a 63-52 lead with 10:23 to play behind three 3-point shots by Nick Hansen. After that, the Titans were never able to draw closer than 79-71 in the second half.
Cal State Fullerton was outrebounded by the Wildcats 46-27. In fact, its most effective rebounder, Orane Chin, finished the night with six rebounds, which put him behind four Wildcats: Session (13), Steve Panos (eight), Nick Hansen (eight), and Darin Mahoney (seven).
"Our guys did a terrific job on the glass. We had a lot of guys determined to go get them tonight and it really helped our cause," said Rahe.
Cal State Fullerton Head Coach Bob Burton feels it was the Wildcat defense that made the difference in the game.
"I really want to credit Weber State. I think they came in and played great defense," Burton said. "Part of the reason we played really poorly was because of Weber State."
The Wildcats defense held the Titans to just 22 percent shooting from behind the 3-point line (1-8) and shut down leading scorer Aaron Thompson, who only had five points.
The Titans were led by Streeter who had a game-high of 21 points. He also had five rebounds and five assists. Gerrard Anderson chipped in with 14 points and Jer'Vaughn Johnson added 13 points.
Related:
Weber State center Spanos was the fourth Wildcat in double figures with 12 points.
Weber State will have a short time to recover as they will face Morehead State on Tuesday. The Eagles fell to Utah State Monday night, 79-72.
It will be interesting to see who can rebound more, Session or Morehead State's Kenneth Faried.
Faried, has posted five double-doubles in just eight games and leads the team in scoring with almost 17 points a game, he is also one of the nation's leading rebounders averaging 13 a game. Faried scored 14 points against the Aggies.
Hughey is looking to build off of Monday's win and bring it into Tuesday's game.
"I'm ready to play, it's going to be a good game," Hughey said. "We're going to be ready to play and bring the intensity."
Rahe would like the win, but interestingly it's not what he's most interested in.
"It's almost more than winning and losing; it's about our response and how we are going to handle having to play a lot of games here," Rahe said. "We're going to find out a lot about our team, I like what I see so far."
He'll get his chance to see some more on Tuesday. Tipoff is set for 5:30 p.m. at the Spectrum in Logan.
×
Most recent Sports stories