Estimated read time: 4-5 minutes
This archived news story is available only for your personal, non-commercial use. Information in the story may be outdated or superseded by additional information. Reading or replaying the story in its archived form does not constitute a republication of the story.
SALT LAKE CITY (AP) -- When Jerry Sloan joined the Utah Jazz as an assistant coach in 1984, his biggest question about a skinny rookie named John Stockton was his durability.
"We were still concerned about how would he hold up. Shows how much we know as coaches," Sloan said Friday. "Little did we know that he would play and be as effective as he's been all these years. He just did what you told him."
Stockton, the NBA's career leader in assists and steals, told Sloan and Jazz owner Larry Miller that he was planning to retire, quickly ending speculation that had grown throughout the season.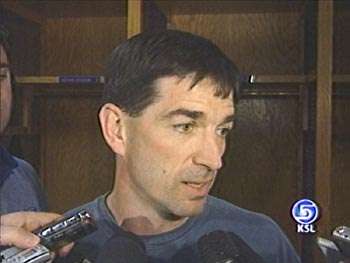 "I think I'm finished," Stockton said in the Jazz locker room.
"I informed those guys and that's the direction I'm headed. I just said, 'I think it's time to move on."'
The 41-year-old point guard had 15,806 assists and 3,265 steals while playing 1,504 of 1,526 possible games -- all with the Jazz.
Stockton wouldn't definitively say he was retiring, but made it clear that was his intention. Utah's season ended Wednesday night with a loss to the Sacramento Kings.
"I would be very surprised. I can't think of what would change my mind at this point," Stockton said.
Stockton, who rarely opens up publicly, spoke briefly with reporters before his emotions took over. On the verge of tears and his voice starting to crack, he cut the interview short and quickly ducked out of the Delta Center.
Stockton had not told his teammates, even forward Karl Malone, who spent 18 seasons taking thousands of passes from his pick-and-roll partner.
Malone said he heard the news on television while inside the arena for the team's final meeting of the season. He said he was disappointed that Stockton didn't deliver the news personally, but added that he would get over it.
"I love him to death, but if I could see him right now I'd like to shake him," Malone said.
Stockton's statement marked the first major turn of what figures to be an eventful offseason for the Jazz. Malone, who becomes a free agent this summer, might not return if the Jazz do not pay Malone what he feels he deserves.
"I don't want to say something that I regret. I don't know what I'm thinking at this point," Malone said. "I'm still shocked right now."
Sloan also is considering retirement, but didn't want to talk about anything other than Stockton on Friday.
"In my opinion, John Stockton was the greatest. I had the opportunity to see what he was about every single game," Sloan said. "He gave it every single ounce of energy he had every time he stepped on the floor because he enjoyed playing."
Stockton, a father of six, said it was getting harder and harder to mentally prepare for games.
He was expected to decide on retirement within a few weeks, but he woke up Friday and decided not to prolong it. In typical Stockton fashion, he avoided a farewell news conference.
"I'm afraid I can't get reflective right now," Stockton said. "No, it will be too tough."
Despite his age and playing his fewest minutes since the lockout-shortened 1998-99 season, Stockton remained among the league leaders at point guard this season, finishing fifth in the NBA with 629 assists. Stockton averaged 10.8 points, down from his career high of 17.2 twice in the early 1990s.
He was selected one of the 50 greatest players in NBA history, and played in every game in 17 of his 19 seasons.
Stockton was drafted 16th overall by the Jazz out of Gonzaga, the school in his hometown of Spokane, Wash. He was hardly known -- just a quiet, skinny 22-year-old with a thatch of jet black hair.
His appearance never changed much, but his anonymity vanished quickly once former coach Frank Layden made Stockton a starter in the 1987-88 season. That's when Stockton and Malone established themselves as one of the top tandems in league history.
Stockton went on a five-season spree averaging at least 1,100 assists and 200-plus steals while scoring between 14.7 and 17.2 points a game.
Establishing himself as one of the top point guards in the league, he earned a spot on the 1992 U.S. Olympic Dream Team, along with such stars as Michael Jordan, Magic Johnson and Larry Bird.
He was an Olympian again in 1996, the summer before the Jazz went from contenders to Western Conference champions.
Stockton and Malone led the Jazz to back-to-back conference titles in 1997 and 1998, when Jordan and the Chicago Bulls spoiled Utah's best chance for an NBA title.
"I used to have a coach who said `Make your teammate an All-Star.' That's what he tried to do every night," Malone said.
"There will not be another one."
(Copyright 2003 by The Associated Press. All Rights Reserved.)
×
Most recent Utah stories