Estimated read time: 2-3 minutes
This archived news story is available only for your personal, non-commercial use. Information in the story may be outdated or superseded by additional information. Reading or replaying the story in its archived form does not constitute a republication of the story.
Sandra Yi reportingAdrian Ruiz/Dept. of Public Safety: "THE REASON UTAH WAS NOTIFIED IS THE SUSPECT HAD POSSIBLY LIVED IN UTAH."
Law enforcement issued an Amber alert this morning in St. Cloud, Minnesota, for Cindy Jeanette Bruno, an 11-year old Minnesota girl. Police believe she's with a man who has ties to Utah.
Authorities in Utah are waiting for more detailed information before they issue an Amber Alert here.. That decision, they say, is not made lightly for fear the alert could lose its effectiveness. Still, dispatchers inside the Salt Lake Communication Center are ready to get the word out if they need to.
Adrian Ruiz/Dept. of Public Safety: "IN THIS PARTICULAR INCIDENT, SOUTH CAROLINA WAS ALSO NOTIFIED."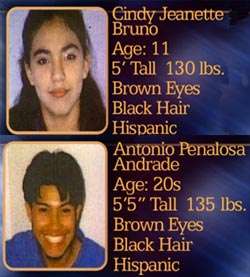 The possible kidnapping of an 11 year old St. Cloud, Minnesota girl prompts a multi state alert.
Adrian Ruiz/Dept. of Public Safety: "IT WAS A FORD AEROSTAR DESCRIBED AS EDDIE BAUER, DARK GREEN IN COLOR."
Details of a possible Utah connection came in to the Salt Lake Communication Center, which is the dispatch center for state agencies, this morning.
Minnesota authorities said the suspect, Jose Jimenez Andrade, also known as Antonio Penalosa Andrade, may have lived in Utah and could be headed back here. That information though, wasn't enough to issue an Amber alert in this state.
Adrian Ruiz/Dept. of Public Safety: "TO MAKE IT OFFICIAL IN UTAH, WE WOULD HAVE TO GET DEFINITIVE INFORMATION THAT THEY MIGHT BE IN UTAH AS OPPOSED TO AN ATTEMPT TO LOCATE, JUST SAYING HE POSSIBLY COULD BE DRIVING THROUGH UTAH."
Andrade is described as hispanic, 5 feet five inches tall and 135 pounds. He has brown eyes and black hair.
He's believed to be traveling with Cindy Jeanette Bruno. She's described as 5 feet, 130 pounds with brown eyes and straight, black hair.
Her mother awoke this morning to find the girl missing from her bedroom and a note written in Spanish that, when translated, read: 'don't look for me.'
Investigators were studying the letter to try and determine if the girl wrote it on her own.
Capt. Richard Wilson/St. Cloud Police Dept.: "NOBODY SAW THEM DISAPPEAR. THEY'RE WORKING ON INFORMATION THAT SHE MAY HAVE GONE WILLINGLY. BUT SHE'S 11 YEARS OLD AND THE MOTHER WANTS HER BACK AS SOON AS POSSIBLE."
The pair may be driving a 19-92 green Aerostar van with Minnesota license plate C-Y-Y-4-7-4.
The latest information dispatchers here received was that the two may now be heading to Texas, North Carolina, or even Mexico.
×
Most recent Utah stories