Estimated read time: 2-3 minutes
This archived news story is available only for your personal, non-commercial use. Information in the story may be outdated or superseded by additional information. Reading or replaying the story in its archived form does not constitute a republication of the story.
Richard Piatt reporting A chemical spill in Salt Lake's Glendale area sparked evacuations this afternoon and closed a freeway.
Several hundred gallons of hydrochloric acid poured onto the ground at Thatcher Chemical, which is located at about Redwood Road and 14th South.
Everything is o-k now, but at first there was real concern about hydrochloric acid on the ground and in the air. That was enough to scare a lot of people who work in this area.
At first, a small part of the spill turned into vapor: A cloud of Hydrochloric acid floated toward I-215.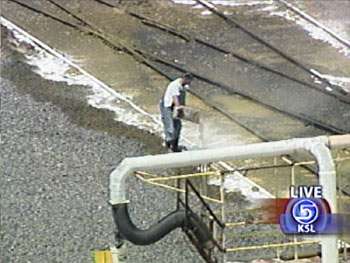 Then, about 50 people evacuated from Thatcher Chemical, where the spill happened, another 100 from surrounding businesses. Those people watched the emergency response, and started to worry about the place they work next to.
Joe McIntyre/Works Nearby:"I'VE ALWAYS BEEN CONCERNED ABOUT WORKING NEXT TO IT. WE'RE MOVING IN A FEW MONTH AND I'M GLAD."
Arron Echols/Works Nearby: "THEY DEFINITELY SCARE ME NOW THAT THEY'VE HAD A SPILL, I WORRIED ABOUT THEM."
The Salt Lake City fire dept. brought in it's 'Mass Decontamination Unit' to deal with between 800 and a thousand gallons of the hydrochloric acid that spilled from a truck. They quickly 'dyked' most of the liquid into a large room at the plant.
There was only one injury: a man from Thatcher Chemical who at one time was close to the spill.
Dennis McKome/Salt Lake City Fire Dept. "HE'S COMPLAINING OF A HEADACHE, CREWS ARE WORKING ON HIM RIGHT NOW. I DOUBT HE'LL EVEN GO TO THE HOSPITAL."
Fire crews had the spill contained in just under an hour.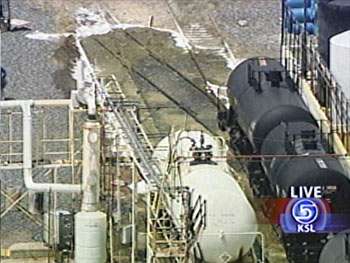 Eyewitness news checked into Thatcher Chemical's safety record---The City hazardous materials inspector says the company has a good safety record. Fire Department records show three emergency calls to the plant in the last 12 months--mostly precautionary calls, they say.
Cleanup may be over here, but an investigation is underway into what happened--both by the fire department and by the city health department.
×
Most recent Utah stories