Estimated read time: 2-3 minutes
This archived news story is available only for your personal, non-commercial use. Information in the story may be outdated or superseded by additional information. Reading or replaying the story in its archived form does not constitute a republication of the story.
GRAND JUNCTION, Colo. (AP) -- Hopelessly pinned by a boulder that rolled onto his arm in a remote canyon, adventurer Aron Ralston first took a dull pocketknife to his forearm after three days, but couldn't cut the skin.
The next day he went through the motions of applying a tourniquet, laying out bike shorts to use for padding. He worked out how to get through the bone with the cheap "multitool"-type knife he carried.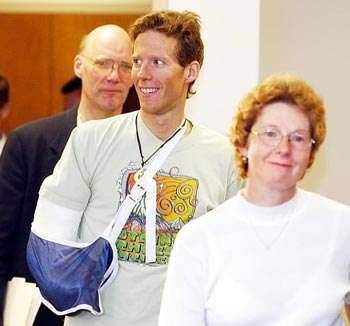 "Basically, I got my surgical table ready," Ralston, 27, recalled Thursday in his first meeting with the media since walking, bloody and dehydrated, out of the canyon on May 1.
Finally on the fifth day, he summoned up technique and nerve to do what for most who followed his story is unthinkable:
"I was able to first snap the radius and then within another few minutes snap the ulna at the wrist and from there, I had the knife out and applied the tourniquet and went to task. It was a process that took about an hour," he said.
Even after the excruciating operation, the rest of the rescue required skills beyond the abilities of most.
He crawled through a narrow, winding canyon, rappelled down a 60-foot cliff, and walked some six miles down the canyon near Canyonlands National Park in southeastern Utah.
By the time he encountered hikers and then rescuers, Ralston was just two miles from the nearest road.
"I'm not sure how I handled it," Ralston said. "I felt pain and I coped with it. I moved on."
Slim and pale with short reddish-brown hair, the stump of his right arm in a sling, the mechanical engineer-turned full-time outdoorsman met reporters at the hospital where he is recovering.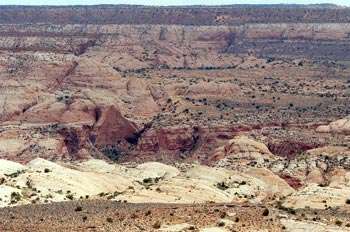 Ralston, making frequent references to spirituality and prayer, described scrambling down the canyon and trying to make his way over three boulders. The middle one, weighing an estimated 800 pounds, rolled as he climbed over it, trapping his right arm against a cliff face.
The accident followed a long weekend of outdoor activity that began with skiing, then a mountain bike ride, and finally, on the third morning, April 26, a "canyoneering" trip down Blue John Canyon.
Canyoneering involves navigating the narrow, winding slot canyons of the Colorado Plateau, alternately using climbing techniques, hiking and sometimes wading or swimming through streams and pools.
(Copyright 2003 by The Associated Press. All Rights Reserved.)
×
Most recent Utah stories