Estimated read time: 2-3 minutes
This archived news story is available only for your personal, non-commercial use. Information in the story may be outdated or superseded by additional information. Reading or replaying the story in its archived form does not constitute a republication of the story.
Jed Boal reporting State Troopers and emergency crews scrambled among five different crashes in a half-hour period that snarled traffic for the morning commute.
For a half-hour during the morning commute, traffic was jammed in every direction. The problems all came down to speed.
Shortly after 8:30 a.m, the chaos started.
A crash on Southbound 1-15 at 3000 South injured the driver. A few minutes later a truck hauling sod north lost some of its load. Another half-mile away a driver was injured on the State Street off ramp from Eastbound I-80.
Trooper Robert Nixon/UHP: "PEOPLE GET A FALSE COMFORT IN THE NICE WEATHER."
One driver says he slammed on the breaks on the ramp to 201 because of traffic back-up.
Stephen Watts/Driver: "MY CAR STARTED FISH-TAILING EVERYWHERE...THIS IS WHAT HAPPENED...ROLLED OVER."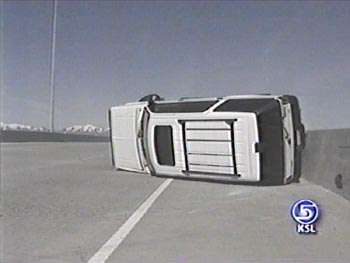 On I-215 on the East side, a pick-up truck tried to pass another car, and came up on a stalled jeep in the left hand emergency lane.
Trooper Robert Nixon/UHP: "SWERVED TO MISS IT, FISH-TAILED...CROSSED ALL THREE LANES OF TRAFFIC AND HIT THE RIGHTHAND BARRIER."
UHP Sgt. Shawn Judd says driver erred in each crash.
Sgt. Shawn Judd/UHP: "WE'RE TRYING TO SAVE PEOPLE, SOMETIMES FROM THEMSLEVES."
The sergeant says driving used to be the top priority when drivers got behind the wheel. Now he says, too many people are on the phone, listening to music, or eating lunch. All while speeding and tailgating."
"Sgt. Shawn Judd/UHP: WE TYPICALLY GET VEHICLES IN THE 90'S SOMEITMES IN THE 100'S IN THE VERY BUSY URBAN SETTING. I WISH I KNEW WHY, I'D LIKE TO TRY TO SOLVE THAT SO THE ROADS ARE SAFER FOR EVERYONE."
Early this morning the driver died in a Juab County roll-over. And this afternoon this truck rolled on S-R 201. The U-H-P wants people to consider the consequences.
Sgt. Shawn Judd/UHP: "IF YOU'RE NOT BELTED IN, AND YOU GET INTO A CRAHS GOING HIGHWAY SPEEDS...IT'S BAD...ALL THIS GLASS SHATTERS WHEN YOUR VEHICLE ROLLS...YOU'LL JUST GET THROWN RIGHT OUT OF THERE."
Troopers think too many people think it won't happen to them. Cars are better built today, and seem safe at any speed. But they're not indestructable.
×
Most recent Utah stories