Estimated read time: 4-5 minutes
This archived news story is available only for your personal, non-commercial use. Information in the story may be outdated or superseded by additional information. Reading or replaying the story in its archived form does not constitute a republication of the story.
IDAHO FALLS, Idaho (AP) -- A woman described as mentally ill was charged Tuesday with murder for allegedly jumping into the Snake River with her granddaughter in an apparent murder-suicide attempt, authorities said.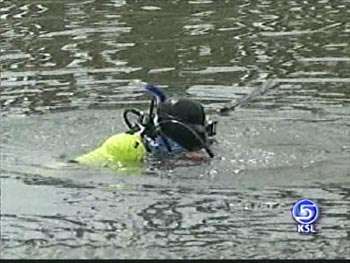 After searching for the toddler for more than seven hours on Tuesday, divers suspended their efforts for the night. They planned to resume Wednesday morning, focusing on a mile-long stretch just past the area where the child entered the river.
Kelley Jean Lodmell, 38, described by authorities as transient and a paranoid schizophrenic, made her initial court appearance Tuesday afternoon from the county jail by closed-circuit television.
Police say Lodmell took Acacia Patience Bishop from her great-grandparents' home in Salt Lake County Sunday evening, and a national Amber Alert was issued early Monday.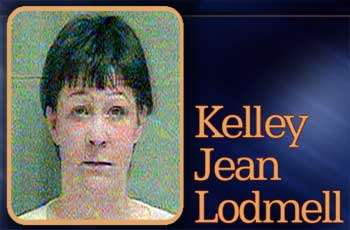 Magistrate L. Mark Riddoch ordered Lodmell held without bond in the Bonneville County Jail at least until her June 10 preliminary hearing. She was appointed a public defender, who will be named in the next few days.
"We have reason to believe she intentionally jumped into the river in an attempt to commit suicide and kill the baby," Idaho Falls Police Sgt. Steve Hunt said. "We don't believe the baby going into the water was an accident."
Lodmell sat passively during the brief hearing, offering only one-word answers to routine court questions.
Federal prosecutors in Salt Lake City are also considering federal charges against Lodmell.
"Certainly there are potential kidnapping charges because of the nature of the offense -- taking an individual from one state to another," said Richard Lambert, criminal division chief for U.S. Attorney Paul Warner.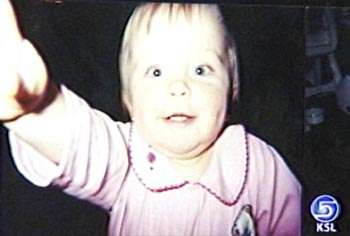 Salt Lake County ended the Amber Alert at 9 p.m. Monday, even though the toddler remains missing. But Lodmell and her car were found and authorities knew the child had last been seen at the hotel, sheriff's spokeswoman Peggy Faulkner said.
A combination of interviews and physical evidence secured during searches of Lodmell's hotel room in Idaho Falls and her car led to the murder charge, Bonneville County Prosecutor Dane Watkins Jr. said. He refused to discuss specifics about the evidence.
The death penalty is being considered by prosecutors, Watkins said. He refused to speculate about how Lodmell's mental state would affect the case.
Poor visibility in the murky, 47-degree water hampered divers' efforts to find the child's body.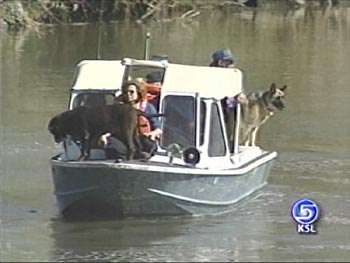 "Visibility is between two feet and sometimes zero. What they're doing is hand work. It's difficult and time consuming," Bonneville County sheriff's Capt. Paul Wilde said. "It's an emotional drain on them. They're doing the best they can do."
Divers planned to focus Wednesday on a mile-long stretch of the main Snake River, presuming the toddler had been swept over the dam that feeds the power plant.
"We haven't found anything that we believe is related to the case," Hunt said.
Dogs and rescue workers patrolled the banks while boats searched the river below the dam and helicopters flew overhead to find the child.
The spot where the woman said she and the girl entered the river Monday is along a spillway 200 yards upriver from a power plant.
Hunt said the child could have been washed over the dam into the river's main channel.
Ken Lawson, dispatch supervisor with Idaho Falls Power, said Lodmell ran into the hydropower plant just after noon on Monday.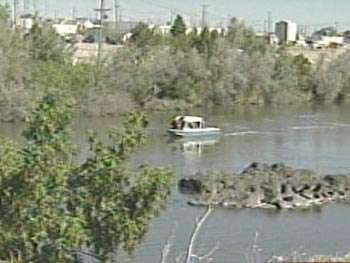 "She ran in here soaking wet, and said that her baby had fallen in the water," Lawson said. "She said her baby was in the river, drowning."
The operator on duty immediately shut down the plant, Lawson said, so that the river water would not be sucked into the plant's turbines.
Relatives said Lodmell had stopped taking medication for her illness. Authorities said Lodmell had cooperated with police but frequently changed her story when she was detained Monday.
The girl was last seen Sunday night when Lodmell checked into an Idaho Falls hotel along the river. Clerk Josh Siems said she sat the child on the counter as she checked in about 10 p.m.
"The kid was OK. A cute kid," he said.
Acacia was being watched Sunday evening by her great-grandparents in Salt Lake County while her parents attended a wedding rehearsal dinner.
Linda Lodmell, the girl's great-grandmother, said Kelley Lodmell stopped by while she was watching Acacia. Linda Lodmell said she was putting away a vacuum cleaner when the girl and Kelley Lodmell, who is her daughter, disappeared.
Last year, Kelley Lodmell took Acacia for half an hour before relatives found them, said Faulkner, the Salt Lake County sheriff's spokeswoman. No charges were filed.
Since then, Acacia had only had supervised visits with her grandmother. Kelley Lodmell had wanted the girl for herself, Casey Lodmell said.
Kelley Lodmell pleaded guilty to a 1999 charge of aggravated assault of a police officer and was put on probation. Court records show that she pleaded guilty in March to misdemeanor charges of threatening to use or using a dangerous weapon in a fight, intoxication and disorderly conduct. She was given credit for 60 days she served in jail and put on probation.
Linda Lodmell said her daughter has received only short-term mental care and took medications only when she could afford them. She tried to get mental health care for her daughter through corrections agencies, she said.
(Copyright 2003 by The Associated Press. All Rights Reserved.)
×