Estimated read time: 2-3 minutes
This archived news story is available only for your personal, non-commercial use. Information in the story may be outdated or superseded by additional information. Reading or replaying the story in its archived form does not constitute a republication of the story.
Ed Yeates Reporting A breakthrough in determining how children develop autism. It may be all in the genes.
A worldwide consortium of scientists from the University of Utah and 50 other research groups announced Sunday they may have identified a gene that may predispose people to autism.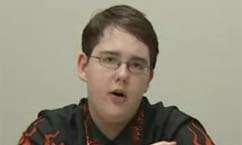 Will Parry: "Sometimes it's really hard being me. I just can't control myself sometimes. But, yeah, I try to make the best of life."
Will Parry has serious behavioral problems but does well in art. He'll grow into adulthood with his autism, like Diego Soares did when we first met him. Parents continue experimenting with all kinds of therapies, like the Husakers began doing almost eight years ago.
So goes autism - day after day after day. It's not only devastating for those dealing with it, but studies we told you about last week also show it's more common than anyone imagined - 20 times more prevalent than it was two decades ago.
Several complicated triggers most likely kick off autism. But it may only happen after many folks out here in the population are born with a gene that predisposes them to the disorder.
The research consortium has identified what is called the neurexin-1 gene as a major player. Dr. William McMahon says many families were in the study, but two sisters were especially revealing.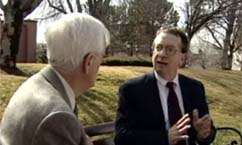 William McMahon, M.D., University of Utah Autism Studies: "These two girls both have autism, and they both have a missing piece of one of their chromosomes on 11-P."
Eleven-P, or chromosome 11. Other genes at that location may also be related to the disorder. Understanding the genetic backdrop is essential now if researchers are ever to find effective therapies, hopefully to stop autism before it begins.
As we reported last week, Utah has the third highest rate of autism out of 14 states. That's one in 133 children.
Families in Utah -- especially those that participated in early studies in the 1980s -- wanting to volunteer for this new research should call the Utah Autism Center at 801-585-9098.
×
Related links
Most recent Utah stories