Estimated read time: 3-4 minutes
This archived news story is available only for your personal, non-commercial use. Information in the story may be outdated or superseded by additional information. Reading or replaying the story in its archived form does not constitute a republication of the story.
CEDAR CITY -- Junior guard Tre'Von Willis and sophomore guard Chase Stanback combined to score 31 points as No. 23 UNLV pulled away from Southern Utah in the second half to defeat the Thunderbirds 77-59 inside a packed Centrum Arena Tuesday night.
"It was rough," SUU senior guard Davis Baker said. "We played a close game in the first half and in the second half they just started pulling away. It was just a tale of two halves."
---
I'm a pretty good competitor and I don't like to lose, but our guys competed,
–SUU Head Coach Roger Reid
---
Despite 13 first half turnovers, the T-Birds trailed at halftime by just one point, down 31-30 at the break. SUU also led throughout the majority of the first half; leading by as much as six points.
However, the Running Rebels (8-1) forced several turnovers, which sparked a massive 23-6 run in the first eight minutes of the second half to avoid falling to the T-Birds (3-8) for the first time in school history.
In the final minutes of the contest, UNLV matched nearly every shot SUU took to avoid a collapse at the end of the game.
T-Bird Head Coach Roger Reid was disappointed in the loss, but was happy with how well his team competed in the loss.
"I'm a pretty good competitor and I don't like to lose, but our guys competed," Reid said. "Once again, we've got a very young team, but we're making great strides."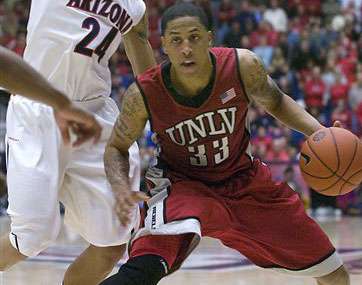 "We just didn't execute in the second half and we had too many turnovers and let them get a run and we just couldn't get back after that," Baker said.
The Rebels are now 19-0 lifetime against the T-Birds.
The announced crowd of the game was 4,331, which filled over 80 percent of the Centrum Arena's capacity; despite SUU students already being on holiday break. However, it seemed that the majority of the fans travelled from Las Vegas to see the Rebels play.
SUU outrebounded UNLV 43-38, but finished with 25 turnovers in the game and shot 36 percent from the field, while UNLV committed just 10 turnovers and shot 40 percent from the floor.
Freshman guard Scott Friel and sophomore guard Jake Nielson combined to turn the ball over 15 times from the point guard position. Seven of Nielson's turnovers were committed in the first half.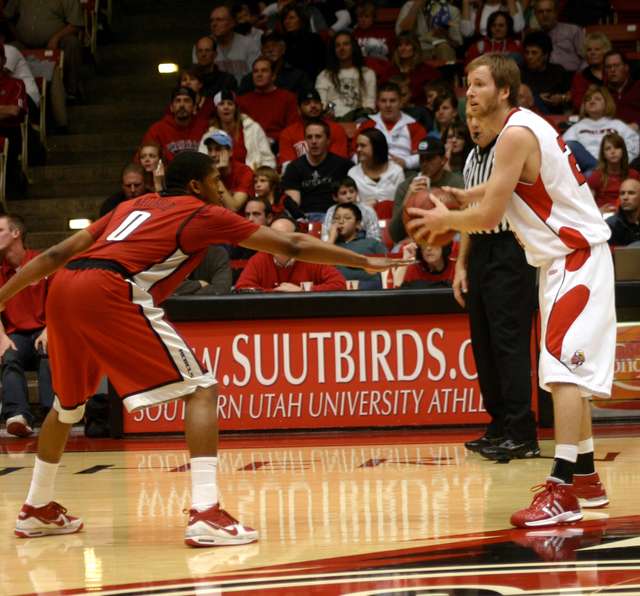 Before the game, Reid tweaked the line-up, moving Nielson from the wing and into the point guard position. In addition, junior guard Ryan Brimley made his first career start as a T-Bird, while Baker was moved to the wing.
The move also put Friel and freshman guard Damon Heuir, who shared starting duties at point guard on the bench.
Of the 25 turnovers, second most committed by SUU this season, most came off the full-court trap run by the Rebels. UNLV Head Coach Lon Kruger said he believe the majority of the turnovers were created by the trap locking players down.
"He's still a good player, but we trapped him well and sometimes that creates a lot of turnovers that are not your fault, but he's a great player and we have a lot of respect for him," Kruger said about Baker, who finished with a game-high 21 points, 15 in the second half.
Sophomore forward Matt Massey added eight points and six rebounds for SUU.
"I wanted to (step up)," Baker said. "I wanted to just attack and see what was there and if they doubled me, I'd just kick to the open guy."
Freshman forward Matt Hodgson contributed with six points and a game-high eight rebounds in what seemed to be his breakout game.
"The last three games, for a freshman, and see where he's going," Reid said. "When he gets a little maturity, he's going to be a factor and a heck of a player.
Including Willis and Stanback, three players scored in double-digits for UNLV. Sophomore guard Oscar Bellfield added 10 points in the win.
The T-Birds have now lost six consecutive games.
SUU returns to action on Dec. 21 against UC-Riverside; tip-off is scheduled for 7 p.m.
×
Most recent Sports stories