Estimated read time: 4-5 minutes
This archived news story is available only for your personal, non-commercial use. Information in the story may be outdated or superseded by additional information. Reading or replaying the story in its archived form does not constitute a republication of the story.
SALT LAKE CITY (AP) -- After successfully hoisting a dehydrated hiker from a mountain trail, Life Flight helicopter pilot Brent Cowley wanted to go back up to see how high the chopper had flown during the rescue.
"We were elated it went so well," flight nurse Denise Ward said Sunday. But minutes after Cowley lifted off Saturday night, "there was a loud noise, and immediately the helicopter started spinning," she said.
The Agusta K-2 helicopter crashed in the foothills above the Salt Lake Valley, killing Cowley, 49, and injuring Ward, 42, and paramedic Brian Allred, 34.
Cowley, a 22-year flight veteran, was a retired U.S. Army pilot who flew missions in Mogadishu, Somalia. He had worked for Life Flight since 1999. He and his wife, Cheryl, of Farmington, have seven children.
Ward, of Salt Lake City, suffered only scrapes and bruises. She said during a Sunday news briefing that she climbed out of the chopper's nose area, which was destroyed. She called the flight dispatch center to report the crash and ask how to shut down the helicopter's engines.
When paramedics arrived, "I told them to attend to Brian, that he was hurt, and Brent was dead," Ward said.
Cowley died on impact, she said.
Allred's left elbow was dislocated and he suffered heavy bruises and scrapes. "We hit," said Allred, also a Salt Lake City resident. "The next thing I remember was Denise's voice, like an angel, saying 'are you all right?' "
Both survivors said they were certain Cowley had done everything possible to land safely.
"I believe he saved my life," said Allred. "There is no doubt in my mind."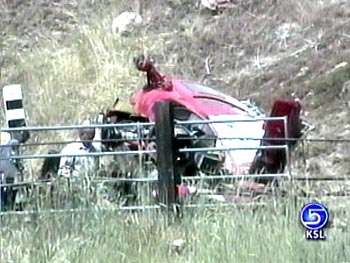 It was the second Life Flight helicopter crash in six months. The National Transportation Safety Board and the Federal Aviation Administration are investigating both crashes, said LDS Hospital spokesman Jess Gomez.
The helicopter crashed Saturday near 5600 South and Wasatch Boulevard between 8:11 and 8:14 p.m., according to dispatch logs. Witnesses on the ground said it appeared something flew off the tail as it went down.
Gomez and Life Flight director Bill Butts said they couldn't speculate or comment on the witnesses accounts.
A University of Utah hospital AirMed helicopter flew Allred to LDS Hospital; Ward was taken by ambulance.
Life Flight has been using hoist mechanisms in rescue operations for three years, Butts said. It is the only civil organization that uses hoists for rescues, he said.
The 20-year-old woman the crew plucked off Mt. Olympus was taken to a command center and evaluated. From there, she was taken by ambulance to a hospital.
Asked whether it was necessary to use a helicopter to rescue a dehydrated hiker, Gomez said Life Flight never questions the agencies -- in this case, Salt Lake County search and rescue -- that request help.
"They call us. We respond," he said.
Life Flight's helicopter operations have been voluntarily suspended for an undetermined time. Life Flight will continue limited fixed-wing services. AirMed services also remain available for medical rescues.
Life Flight helicopter pilot Craig Bingham and paramedic Mario Guerrero died in a Jan. 10 crash in dense fog near the Salt Lake City airport. Nurse Stein Rosqvist was seriously injured.
The helicopter was en route to Wendover to pick up a car wreck victim. When the pilot determined the fog was too thick to proceed safely, the chopper turned back and sought to land at the airport. The cause of the crash hasn't been determined, but fire officials at the time said the dense fog may have disoriented the pilot.
January's crash was the first major accident in the nearly 25-year history of LDS' Life Flight, Gomez said. Helicopter operations were suspended for eight days.
That craft also was a two-engine Agusta K-2, made in Italy and designed for high-altitude flights and extreme weather conditions. The helicopters cost $4 million each.
Gomez said Sunday there was no apparent connections between the two crashes.
Butts said that after the January crash, trainers "shored up" Life Flight instructions, but there were no major changes in the program.
A helicopter to replace the one lost in January is expected by June 30, Gomez said.
The craft that crashed Saturday was nine years old, and had logged 4,800 flight hours, Butts said.
Life Flight helicopters undergo routine inspections every 25 hours. At 2,400 hours, the aircraft are "virtually disassembled," inspected and reassembled; the helicopter that crashed Saturday had been through that maintenance process twice, Butts said.
(Copyright 2003 by The Associated Press. All Rights Reserved.)
×