Estimated read time: 2-3 minutes
This archived news story is available only for your personal, non-commercial use. Information in the story may be outdated or superseded by additional information. Reading or replaying the story in its archived form does not constitute a republication of the story.
Sandra Yi reporting The state health department has shut down a so called "problem house" in Magna.
Police say it's because of concerned neighbors, who called their community action team.
The home had a history of drug and other suspicious activity. In fact, police busted it last year for similar reasons. They came back today, after neighbors said enough is enough.
Lt. Steve Sharp/Salt Lake County Sheriff's Office: "THE CITIZENS AROUND HERE WILL GET OUR THANKS, YES."
Alert neighbors helped police bring this so called "problem house" down today. Inside, drug agents found an undisclosed, but large amount, of meth. And evidence the residents had been cooking meth. They also discovered the house to be unlivable.
Lt. Steve Sharp/Salt Lake County Sheriff's Office: "THERE'S A LOT OF INDICATION OF RODENTS AND VARIOUS BUGS."
A look inside the front door, reveals a cluttered, dirty room. But police say what you can't see are falling floors, raw sewage coming out of the pipes, and animal feces.
Lt. Steve Sharp/Salt Lake County Sheriff's Office: "I'D SAY IF YOU WERE A DOPE USER, THIS WOULD BE CONSIDERED THE GOOD LIFE."
9 people were living in the home, or in trailers and campers parked in the yard.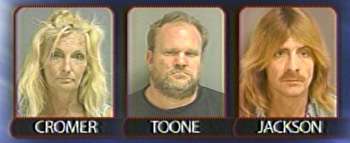 Three of them: Bonnie Lee Cromer, Robert Toone and Johnny James Jackson, were arrested on warrants or drug charges.
Resident: "I'M NOT PROUD OF THEM, I AM UPSET, YES."
A resident, who didn't want to be identified, has lived in a trailer in the backyard for a month. He says he had no idea what was going on, on the property. He says had he, he would have moved out.
Resident: "I'VE HAD MY TIME WITH DRUGS AND THINGS LIKE THAT OVER THE YEARS, EARLIER, YEARS AGO, AND I'M NOT DOING THAT ANYMORE AND I DON'T WANT TO BE AROUND THAT ANYMORE."
Several neighbors who did not want to go on camera, said they're happy and relieved something was done here.
But officers say there are a lot of homes like this throughout the Valley. They encourage people to report suspicious activity and take down license plate numbers.
It will be up to the home owner here to clean this place up.
×
Most recent Utah stories