Estimated read time: 2-3 minutes
This archived news story is available only for your personal, non-commercial use. Information in the story may be outdated or superseded by additional information. Reading or replaying the story in its archived form does not constitute a republication of the story.
John Daley reporting With each year of our region's drought, the fire danger gets more extreme.
In response, public agencies are growing more pro-active, issuing tougher restrictions and doing it earlier than in years past.
Case in point, this summer's fire ban issued by Salt Lake County, to take effect immediately.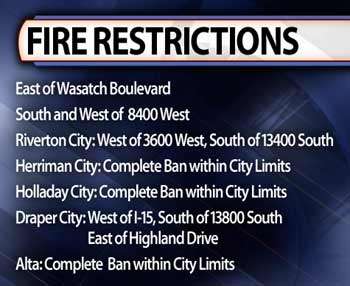 Back in the days before the drought, July 4th was the traditional start of the fire season, when all the warnings went out. Now, those warning just seem to get earlier. We're just half way through June, and we've already got fire bans in place.
Already, the danger is clear, as this scene this afternoon shows. Even open land by freeway off-ramps can light up, quicker than you can say "Dante's Inferno." Not surprisingly, public officials are calling on private citizens to do all they can to prevent fires this summer.
Capt. Jay Ziolkowski, Salt Lake County Fire Dept. :"THE BIG THING HERE IS BE CAREFUL. WE'RE STILL IN THE DROUGHT SITUATION. WE'VE GOT A LOT OF DISEASED AND DYING VEGETATION. IT DOESN'T TAKE MUCH FOR A FIRE TO LIGHT OFF AND REALLY GET GOING."
Salt Lake County has issued its summer fire restrictions--that are most critical in those areas next to vast areas of open space--known as the urban-wildland interface.
Fire Restrictions:
ban on open fires
ban on fireworks
ban on smoking, except certain places The county's fire restrictions in those areas include: a ban on open fires, a ban on the use of all fireworks, and a ban on smoking, except for within an enclosed vehicle, camp trailer or developed recreation site. "WE'VE HAD SEVERAL INSTANCES IN YEARS PAST WHERE A CIGARETTE HAS BEEN BELIEVED TO BE THE PROBABLE CAUSE." The past few years, Utah has seen some huge and roaring fires. But thanks to public cooperation, the hard work of fire crews, and some luck, the state has escaped the massive, catastrophic blazes other states like Colorado have suffered. But, this summer, that could change. "I THINK THE CONDITIONS ARE JUST GETTING MORE AND MORE EXTREME. WE CONTINUE TO HAVE THE DISEASED AND DYING VEGETATION. THIS SPRING WE HAD A LOT OF HEAVY RAIN. GRASS GREW UP TALL AND GREEN AND NOW IT'S BROWN. EXTREME CONDITIONS. IT'S NOT CHANGED AT ALL, IN FACT IT'S MORE HAZARDOUS. " Tomorrow, we're expecting to hear more from fire officials on this topic. The county will hold a live fire demonstration, they'll show just how easily and quickly a field like this can erupt into flames.
×
Most recent Utah stories