Estimated read time: 2-3 minutes
This archived news story is available only for your personal, non-commercial use. Information in the story may be outdated or superseded by additional information. Reading or replaying the story in its archived form does not constitute a republication of the story.
John Daley ReportingOne Utah resort is turning to a creative solution to a rather perplexing problem.
Once upon a time Sundance was the home of sheep and cattle. Today arrived a 364-head herd of goats.
This is no vacation. These cud-chewing mammals are here to work, to nibble on all things noxious.
The main target is the dreaded spotted knapweed. It grows like crazy and the Sundance folks have found it is nearly impossible to get rid of. That is until now.
Ray Grant, Exec. Director/Sundance: "They'll eat this grass down. They're far better lawnmowers than John Deere ever imagined, and then we'll move the fences and we'll move them to other areas that we're trying to get rid of these noxious weeds."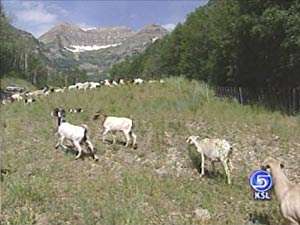 The goats' owners actually stay on the mountain with the herd day and night, controlling what they eat with an electronic fence.
Managers at the resort got the idea, seeing a story run on Eyewitness News last summer, about a similar project in Utah County using goats to eat brush to help prevent wildfires.
Julie Mack, Northfork Preservation Alliance/Exec. Director: "That got us thinking that it would be a great tool at Sundance so we started to do some research and found a herd from northern Utah."
That herd comes from D'Goat Ranch near Tremonton. Its owner, Jason Garn, went from high-tech to low-tech, leaving a job at Intel making computer chips to come back to Utah to oversee the munch bunch.
The goats will spend the next five days on the ski hill, ideally stopping the knapweed from seeding while they break up and fertilize the soil, which will later be seeded with native grasses.
The big advantage . . . no chemicals, which can damage plants, animals and, potentially, the water supply.
Julie Mack, Exec. Director/Northfork Preservation Alliance: "It's a natural solution to a tough problem."
Another big plus, the kids like the kids and this way of whacking weeds.
For the next five years the resort will be getting the goats in hopes of getting rid of the weeds.
×
Most recent Utah stories