Estimated read time: 3-4 minutes
This archived news story is available only for your personal, non-commercial use. Information in the story may be outdated or superseded by additional information. Reading or replaying the story in its archived form does not constitute a republication of the story.
Karen Scullin and Jed Boal reportingPat Workman, carjacking victim: "HE WAS HELPING UNDO THE KIDS AND SO I'M PULLING THEM OUT AND THEN HE WANTED MONEY, AND I SAID I DON'T HAVE ANY CASH"
What started as a police chase led to a crash, a carjacking, and a manhunt.
The search is still on for a man who forced a woman and four children out of a car this morning, and drove off.
Police have been searching for him for about 8 hours now.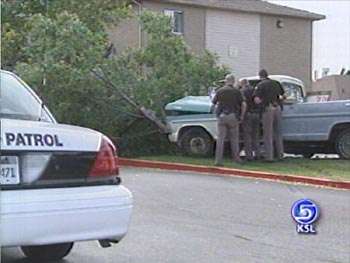 The chase started after a highway patrol trooper spotted the driver trying to get on I-80 going the wrong direction. The trooper was concerned he was drunk and tried to pull him over. When the trooper hit the lights and sirens, the suspect hit the gas.
The chase was unpredictable, but short, as the driver quickly lost control and crashed.
Jeff Dunn/Utah Highway Patrol: "WHEN THE VEHICLE HIT THE POWER LINE IT MADE SEVERAL SMALL EXPLOSIONS THEN ONE LARGE ONE, AT LEAST ONE OR TWO LARGE EXPLOSIONS WITH QUITE A FEW POPPING NOISES"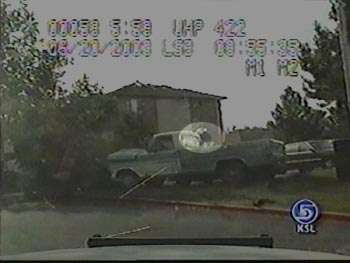 Police combed the truck for evidence and recovered a rifle from the truck. Meanwhile, the suspect was on the run, ending up at a nearby home.
Pat Workman/Carjacking Victim: "HE MUST HAVE JUST HOPPED OVER THE FENCE THERE."
Pat Workman was in her driveway preparing to take her four daycare kids on an outing. They were loaded in the van ready to go. All but one door locked.
Pat Workman/Carjacking Victim: "HE OPENED THE DOOR AND CLIMBED RIGHT IN. I SAID LET ME TAKE THE KIDS OUT. HE WANTED ME TO TAKE HIM SOMEWHERE. I SAYS NO JUST LET ME TAKE THE KIDS OUT"
The man actually helped unbuckle the kids before he took off in the van. Workman's son heard his mother scream, jumped in his own car, and went after the guy.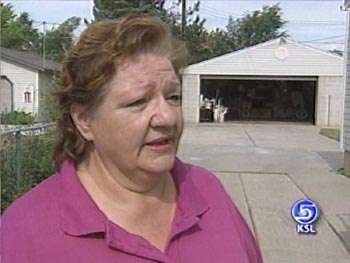 Darren Workman/Chased Suspect: WE GOT ON THE FREEWAY WE WERE DOING PROBABLY A HUNDRED AND FIVE...GOING PRETTY FAST. WE WERE GOING MOSTLY ON THE SHOULDER, PASSING CARS, HONKING AND SWERVING OUT OF THE WAY."
All the while on a cell phone---so police soon caught up and took over.
Darren Workman: "I JUST DIDN'T WANT HIM TO GET AWAY, CAUSE HE HURT MY MOM SO.."
The suspect was apparently injured when he crashed. When he met up with Pat Workman, she describes him as bleeding from several cuts on his face. He was obviously well enough to keep going though
Police chased the van to a neighborhood in West Valley City along 32nd West. He dumped the van a block away and took off running as police moved in.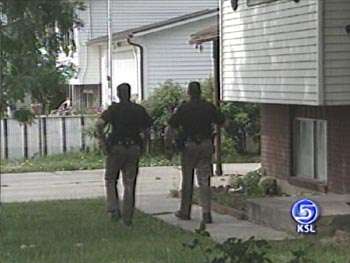 The suspect broke a window at a home but did not go in. Police from three agencies converged on this area and went door to door with the guns drawn. Inside the green van police found a bloody rag. They think the carjacker used it to wipe his face which he cut in the earlier crash. K-9's joined the hunt sniffing out sheds and yards with no luck.
Police called off the hunt after more than four hours. They'll follow up any lead they can.
CARJACKING SUSPECT
HISPANIC MALE IN HIS 20'S
6FEET TALL 140 POUNDS
BLOODY WHITE T-SHIRT
BLUE JEAN SHORTS
CUT ON HIS NOSE
CREW CUT OR SHAVED HEAD The man could be dangerous but police don't consider him a real threat in this neighborhood. He slipped the noose and police hope to catch him soon.
×
Most recent Utah stories