Estimated read time: 2-3 minutes
This archived news story is available only for your personal, non-commercial use. Information in the story may be outdated or superseded by additional information. Reading or replaying the story in its archived form does not constitute a republication of the story.
Sandra Yi ReportingA family is celebrating a landmark legal decision in Utah. A judge has ruled double jeopardy does not apply in the case of a man in prison for child abuse for shaking his baby two years ago. His son has since died and the father now faces murder charges.
Three-year old Salem Hogan died one year ago yesterday. The ruling brings his family some comfort. Now they're speaking out about shaken baby syndrome.
Jackie Hogan/Salem's Mother: "It was very painful knowing that my son was born perfectly normal."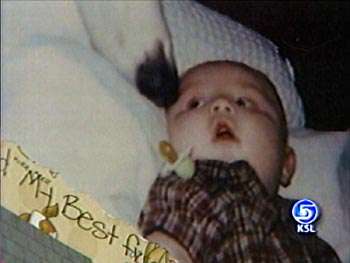 Salem Hogan died after a 21-month battle with shaken baby syndrome.
Jackie Hogan/Salem's Mother: "He was below vegetative state, clinically, because he couldn't control his own body functions."
The baby suffered brain damage after being severely shaken at two-months old. He had no gag reflex and could not swallow or cough. He required 24-hour care and medication every two hours.
Kellie Archibeque/Salem's Aunt: "I think that was the hardest part, was not knowing how long he'd be with us."
Salem's father, Christopher Hogan, is in prison serving a sentence for child abuse. The family fought for murder charges after Salem died, but defense attorneys said Hogan could not be prosecuted for additional charges in the same crime.
But in a landmark decision Friday a judge ruled double jeopardy laws don't apply here. He said prosecutors had no way of knowing Salem would die when they first filed charges.
Jackie Hogan/Salem's Mother: "We've never had any real sensation that there was justice for Salem and when that judge said that he wanted it to go to trial, I think all of us wanted to jump up and scream and say, 'Finally, someone's going to listen to us. Someone's going to actually listen that my son's life meant something.'"
Family members hope the ruling will set a precedent for other similar cases in Utah.
For now - they are spreading the word about SBS. They talk to anyone who will listen and hand out bookmarks, pins and other informational items in Salem's memory.
Kellie Archibeque/Salem's Grand Aunt: "I made a promise to Salem the day he died. I told him we wouldn't give up until we seek justice."
Defense attorneys say they may appeal the judge's ruling. In the meantime, Hogan's trial is scheduled for August 12. If convicted, he faces an additional year to 15 years in prison.
×
Most recent Utah stories