Estimated read time: 1-2 minutes
This archived news story is available only for your personal, non-commercial use. Information in the story may be outdated or superseded by additional information. Reading or replaying the story in its archived form does not constitute a republication of the story.
KSL News Another large wildfire is burning, this one in the Sourdough Ranch area in the mountains 40 miles east of Ogden, but west of Causey Reservoir, on the road to Monte Cristo.
Flames are bearing down on hundreds of cabins and camper trailers in the Evergreen area.
"It is definitely moving our way," said cabin owner Anna Henzi, "I think we'd better leave. There's sparks that are jumping. It's going to get our cabin."
It started as a small brush fire, but within a few hours had consumed nearly 1,000 acres, highlighting hillsides in orange where cabins sit nestled below.
Most people evacuated the area right away as helicopters and airplanes battled the blaze from above.
On the ground, nearly 100 firefighters from several agencies had help from locals, who were some of the first people on the scene.
Firefighters fear the fire may destroy structures, before crews get it completely under control.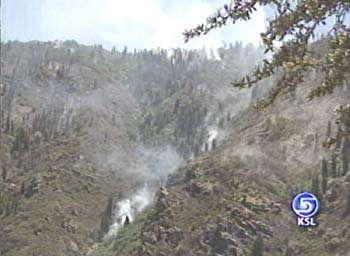 Meantime, Monday was an exhausting day for crews battling the four-day old fire in Farmington Canyon. The flames no longer threaten homes, but putting them out remains a challenge. More than 300 firefighters are on this fire, and they think they may now have gotten the upper hand.
The fire has consumed roughly 2,000 acres so far. Rough terrain and hot weather are making it tough for firefighters.
Also, a power surge sparked several fires Monday afternoon at Alliant Technologies in West Valley.
The surge caused a transmitter to arc and at least three grass fires started.
Aliant has its own firefighting team but called in crews from West Valley and Salt Lake County to be safe. The only structure burned was an old clothes-changing building that is no longer in use.
×
Most recent Utah stories