Estimated read time: 2-3 minutes
This archived news story is available only for your personal, non-commercial use. Information in the story may be outdated or superseded by additional information. Reading or replaying the story in its archived form does not constitute a republication of the story.
SALT LAKE CITY (AP) -- The three children of Richard and Lisa Goff are nearing recovery from the injuries they suffered in a lightning strike that killed their parents, but they are only beginning to understand their loss.
The West Jordan couple were killed Saturday evening when a thunderstorm with hail, hard rain and a barrage of lightning bolts hit the campground at Crystal Lake, about 60 miles east of Salt Lake City and at the 10,000-foot level in the Uinta Mountains.
Richard and Lisa Goff, both 34, their son Dakota, 9, and their daughters Makenzie, 5, and Megan, 18 months, took cover under a tree near the lake shore.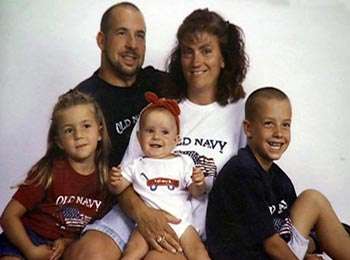 "Lightning hit the tree and killed them (the parents) instantly," said Eric Hansen of West Jordan, a friend of Richard Goff's.
Other campers called for help. When rescue crews arrived, "the kids were basically incoherent," Summit County Sheriff Dave Edmunds said. "They had just seen their parents killed. They were in shock."
The children were airlifted to Salt Lake City hospitals, where they were in good condition and expected to be released to their grandparents by Monday.
"I can deal with one, either of them. I can deal with that. But when both are taken, it's incredible," Lori Ostler, Lisa Goff's sister, told a tv station. "How do you begin to keep this family intact? You tell the little boy who saw his parents get killed that they won't be back, they're gone."
The loss started to sink in for the children Sunday.
"The little girl said several times that she wished her mother was there, but knew she couldn't be," said the family's clerical leader, Bishop Walter Ewell of the Westbrook First Ward of The Church of Jesus Christ of Latter-day Saints. "When her grandmother came she cried and said she knew her mother would never be with her again."
Friends said Megan would cling to her mother and rarely went to anyone else. "It is going to be tough for them," Ewell said.
Rick Goff worked in an auto body shop and his wife was a homemaker. Friends said the family loved boating, fishing, camping, hiking and water skiing.
"If it was an outdoorsy thing, they did it. They loved riding four-wheelers, snowmobiling, just essentially all the outdoor sports," Hansen said.
The children's aunt plans to set up a trust for the three children. You can donate at any Zions Bank starting today.
With their deaths, 66 people have died in Utah from lightning in the past 52 years, and 130 have been injured. More than half of incidents have occurred in July and August.
(Copyright 2003 by The Associated Press. All Rights Reserved.)
×
Most recent Utah stories