Estimated read time: 1-2 minutes
This archived news story is available only for your personal, non-commercial use. Information in the story may be outdated or superseded by additional information. Reading or replaying the story in its archived form does not constitute a republication of the story.
Jill Atwood ReportingA man took a turn too fast and rolled his car this morning in Big Cottonwood Canyon, but he wasn't alone. It just so happens a man with Brighton Ski Patrol was driving down at the time and saw the whole thing happen. The fact that he had some EMT training certainly didn't hurt.
If you've driven up Big Cottonwood Canyon before, you know about the sharp hairpin turns. The man went off the road and landed upside down in the river; that's when the water started to rise.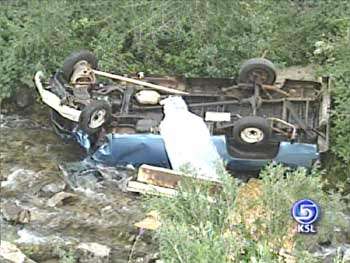 The area he landed is not visible from the road, meaning if someone hadn't seen him go over the victim would probably still be there. As his car started to fill with water a witness named Mike Wardle says his instincts took over and he scampered down the embankment as fast as he could. The man was unconscious when he arrived.
Mike Wardle: "The truck was upside down in the creek and he was suspended by his seatbelt."
Wardle and a few others managed to pull him out before he drowned. They called for help and then AirMed took over. The man was taken to an area hospital and is reported to be in fair condition.
Canyon Patrol hopes this isn't the beginning of a dangerous weekend in the mountains. No doubt hikers and campers will flock to the mountains to enjoy the outdoors. The Sherif'f's Office just hopes they don't underestimate the effects of the heat and go prepared. Lots of water, food and a first aid kit should be taken because you just never know.
×
Most recent Utah stories