Estimated read time: 2-3 minutes
This archived news story is available only for your personal, non-commercial use. Information in the story may be outdated or superseded by additional information. Reading or replaying the story in its archived form does not constitute a republication of the story.
SALT LAKE CITY -- Homeless outreach group Volunteers of America is ramping up its efforts to get Utah's homeless population critical supplies in freezing weather.
Wednesday night, KSL 5 News followed homeless outreach worker Bethany Haug as she loaded a van with blankets, clothing and hygiene items, and then hit Salt Lake County roads.
"I think you have to think about all that you can do, and realize everything you do really matters, and it makes a difference," Haug said.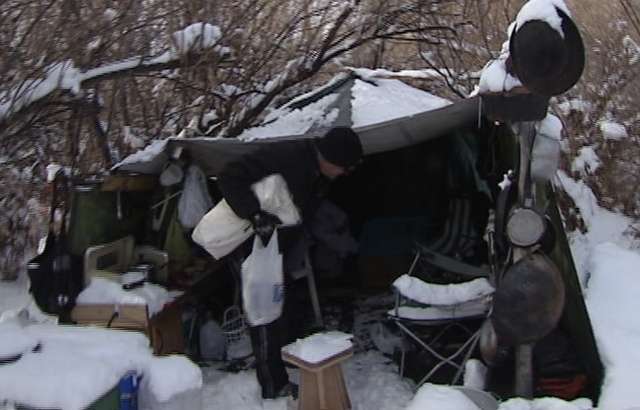 The first stop was along the Jordan River, where she'd arranged to meet some of the men she regularly assists. This is friends Michael Burchill and James Riddins' second winter in a camp they've set up along the riverbank.
"[Volunteers of America] bring us a lot that we couldn't get," Burchill said. "Fresh blankets or clothes mean a world of difference."
The men picked out sweaters, blankets, jackets and food during Haug's stop. They said the prefer living outdoors to a homeless shelter.
"First thing, it's overcrowded. Second, they have problems. The stuff I have, I don't want to lose," Riddins explained.
Their tents are grouped within yards of one another; more are visible through the trees.
Burchill has made a series of rooms out of a tents and tarps. In good weather, he restores bikes to sell on eBay and works other odd jobs. In the winter, however, he said there's a lot of time to sleep.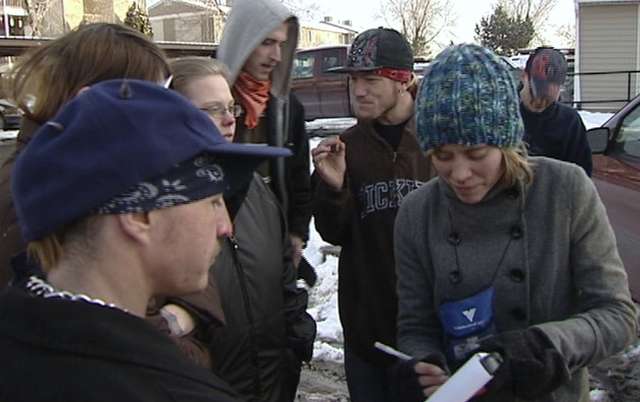 "We take our tents and we find the old abandoned camps with older sleeping bags and we wrap the tents with them and Visqueen. Candles make a big difference," Burchill said.
After distributing items to Burchill, Riddins and a third man, Haug set off to meet a group of younger homeless Utahans.
The oldest in the second group was 24. Haug recorded their names and who received what. She said she worries about the safety of the people she meets.
"You definitely worry about people getting hypothermia, passing out and never waking up," Haug said.
Last year, Volunteers of America's Homeless Outreach served 1,371 people. The organization relies heavily on donations and says, right now, the need is great for thermal underwear, new socks, new and gently-used coats and blankets and monetary donations.
To make a donation or learn more, visit www.voaut.org or call Volunteers of America at 801-363-9414. You can also visit their Salt Lake headquarters at 511 W. 200 South, Ste #160.
E-mail: sdallof@ksl.com
×
Related links
Most recent Utah stories