Estimated read time: 2-3 minutes
This archived news story is available only for your personal, non-commercial use. Information in the story may be outdated or superseded by additional information. Reading or replaying the story in its archived form does not constitute a republication of the story.
SALT LAKE CITY -- Millions of dollars Utah received to stimulate the economy has been put to good use -- and soon dozens of low-income families will have the chance to own a home.
Utah received nearly $20 million in federal stimulus money to help the housing market get back on track. Wednesday, it was announced one of the first homes purchased with that money will soon be on the market.
This house near 1000 South and 1500 West in Salt Lake was foreclosed. It has a value of about $113,000 but was bought for only $82,000 by the Utah Center for Affordable Housing.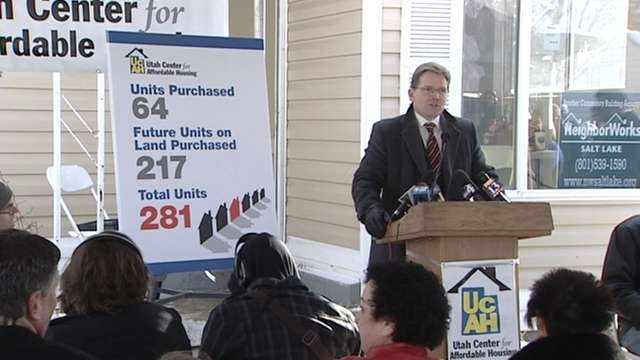 Dan Peterson, with the UCAH, said, "We've been created to put to use the federal stimulus funding intended to stabilize neighborhoods. That's our intent. That's what we intend to do."
The money comes from the Housing and Economic Recovery Act of 2008. Utah got $19.6 million.
When homes are foreclosed, participating credit unions, banks or other finical institutions can choose to offer the property to the Utah Center for Affordable Housing at a lower cost, to get it back on the market faster.
Once UCAH buys a home, it works with non-profit groups in the area to get the home on the market for low-income families.
Gov. Gary Herbert participated by handing this house over to a local organization.
He said, "It's my great honor to turn the keys over to Veronica, who is that chairman of NeighborWorks."
So far 64 homes have been purchased by UCAH with the federal stimulus money and 217 properties for future residences.
All the profits made from the home sales will go right back into the program.
The houses will be available for low- to moderate-income level families in Salt Lake, Weber, Davis, Utah and Washington counties -- that's where it was determined there was the most need.
E-mail: abutterfield@ksl.com
×
Related links
Most recent Utah stories