Estimated read time: 2-3 minutes
This archived news story is available only for your personal, non-commercial use. Information in the story may be outdated or superseded by additional information. Reading or replaying the story in its archived form does not constitute a republication of the story.
Jed Boal reporting As wind fanned the flames, the blaze came within 30 yards of several homes before firefighters turned it back with a fast attack.
Shortly after 9 pm, the intense wave of wildfire started to take off on the bone dry benches above Fruit Heights.
As it swept through the grass and sage, fanned by an evening breeze, people in the area feared the worst.
Vaughn Francis/Homeowner: "Our home is just right here, and I looked up and there was smoke, and there was fire just above the houses."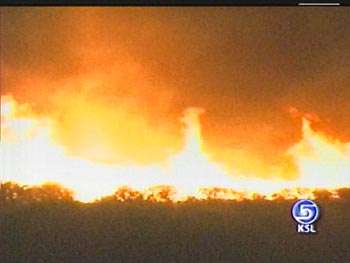 It burned within 30 yards of homes.
Vaughn Francis/Homeowner: "The grass and fuel is just bone dry. It could have taken those homes."
People packed up their valuables and got ready to go.
Allyson Van Brocklin/Homeowner: "I was worried because of the weeds next to our property. They said just a spark and it would be on our home, and you don't really know what to take."
The Davis County Sheriff's Office started the evacuation of 20 homes, about 60 people.
Cpt. Kenneth Payne/Davis County Sheriff's Office: "Get some water, sleeping bags, and get ready to go at a moment's notice."
Eight area fire crews atttacked quickly with high pressure hoses and stopped the fire in its tracks.
"Those guys are just awesome... excellent job!"
Several residents in the area told the Sheriff's office they saw a car speeding away from the area shortly after they spotted the flames. So investigators are pretty certain this fire was started intentionally.
Cpt. Kenneth Payne/Davis County Sheriff's Office: "The fire just immediately goes off and explodes. No way to control it once it goes off."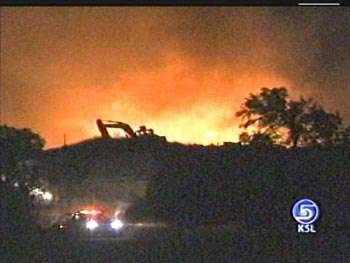 The fire came within 20 yards of the Davis County Animal Shelter. The director feared for the small livestock in a barn.
DeAnne Hess/Davis Co. Animal Services: "I saw flames rushing through the sagebrush, headed for the shelter."
She safely evacuated the animals to a protected indoor shelter.
A little over an hour after the fire started, it was contained, after it scorched 15 acres. Firefighters mopped up hot spots.
Residents and firefighters are amazed such a threatening blaze was turned away.
Fire investigators will dig today for the cause.
That car that sped away leads them to believe someone started the fire intentionally, or started it accidentally, and fled when it got out of control.
×
Most recent Utah stories