Estimated read time: 3-4 minutes
This archived news story is available only for your personal, non-commercial use. Information in the story may be outdated or superseded by additional information. Reading or replaying the story in its archived form does not constitute a republication of the story.
PROVO -- In a game dripping with revenge for the BYU men's basketball team, it was a player who had nothing to do with last year's game that led his team to an 81-68 victory over Arizona State (6-3).
Freshman Tyler Haws, who moved into the starting lineup early in the season, recorded a career high 17 points and his first double-double with 11 rebounds to go with three assists.
Five of his rebounds were on the offensive end.
Haws' role on the team continues to increase as he was second only to Jimmer Fredette (38) in minutes played with 37. Haws said after the game that he didn't expect to have this large of a role so early in his career with the Cougars (7-1).
"I just wanted to come out and play as hard as I can, and wherever it fell, I'd be okay with it," said Haws of his expectations for this season.
The freshman said he was excited about tonight's performance.
"I feel like every game I get a little more comfortable and I was able to knock down a few shots tonight and get a few rebounds, so I feel like it's going in the right direction," Haws said.
BYU Head Coach Dave Rose said he was pleased with his freshman's performance and said Haws plays with the type of energy his team needs.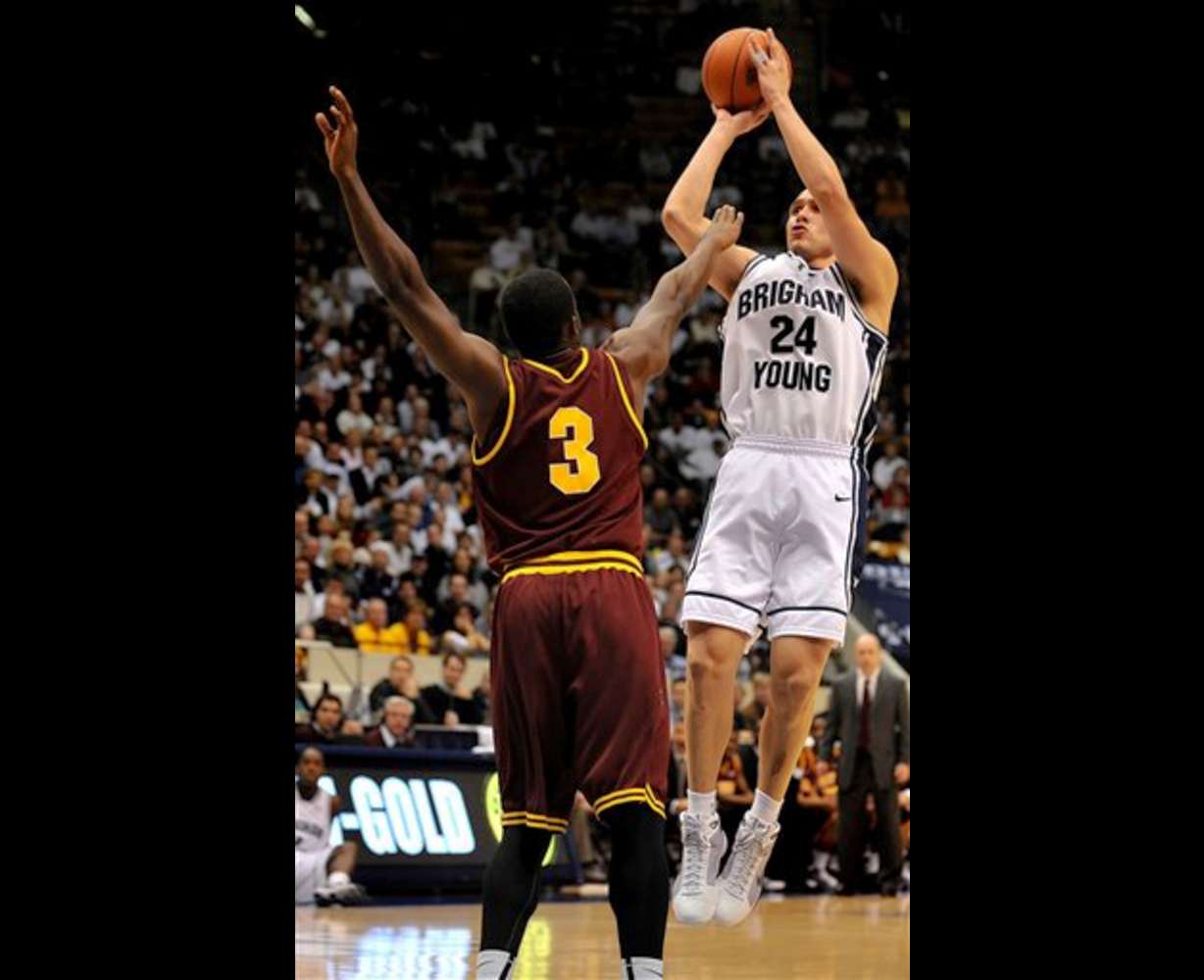 The Cougars cruised in the first half, and jumped out to a 39-23 lead at the break. The game appeared to be in hand for the Cougars, until the Sun Devils came roaring back in the second half. After missing all of their three point attempts in the first half, ASU hit eight of 10 attempts in the second half, outscoring the Cougars 45-42.
Free throw shooting allowed the Cougars to maintain their distance between them and their opponent, as they finished an impressive 23 of 25 from the line. The Sun Devils pulled to within four points at 64-60 late in the second half on runs of 12-2 and 8-0, respectively after being down 50-30 early in the half.
Junior guard Jackson Emery attempted a career high nine three point shots, connecting on five of them. Emery finished with 17 points, five rebounds, two assists and two steals.
BYU's leading scorer Jimmer Fredette struggled from the field, finishing 1-13 shooting, but hitting all eight of his free throws to finish with 10 points and six assists with no turnovers.
Fredette broke the all-time record at BYU for consecutive free-throws made previously held by Michael Smith; pushing the record to 35.
Sophomore forward Noah Hartsock logged a career high of 13 points, breaking his old career high of 11 in the game against Wyoming last season.
In his second game coming off the bench, forward Jonathan Tavernari finished with nine points and five rebounds, but struggled from the field, shooting just two for eight.
Derek Glasser led the Sun Devils with 22 points, adding five rebounds and a steal. ASU shot 48 percent in the second half and 53 percent from three point land.
The Cougars will hit the road to face Fresno State Saturday, which has been changed as a home and home series, instead of the arrangements previously made to play the games at neutral sites.
×
Photos
Most recent Utah stories