Estimated read time: 1-2 minutes
This archived news story is available only for your personal, non-commercial use. Information in the story may be outdated or superseded by additional information. Reading or replaying the story in its archived form does not constitute a republication of the story.
John Hollenhorst reporting A member of the Kingston polygamy clan went to court in Salt Lake City this morning. It's the latest in a string of prosecutions involving young teenage brides.
In this case the, bride's age is essentially irrelevant, from a legal standpoint. That's because what's alleged here would have been illegal, even if she had been an adult.
Jeremy Ortell Kingston allegedly had three wives already when he married LuAnn Kingston, aged 15. With her, he allegedly fathered two children. The alleged crime? Incest, because LuAnn was not only his wife. She is his first cousin and he is also her nephew.
Now, LuAnn has left the Kingston group and wants to testify against him.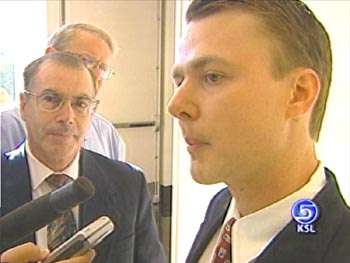 JEREMY KINGSTON/DEFENDANT: "I HAVE NO ILL FEELINGS TOWARDS LUANNE. I CARE ABOUT HER AND HER FAMILY. HER CHILDREN AND I WANT THE BEST FOR THEM."
CARL KINGSTON/RELATIVE-ATTORNEY: "HE'S CURENTLY PROVIDING FINANCIAL SUPPORT FOR HER AND WE HOPE THAT HE'LL BE ABLE TO CONTINUE TO DO THAT. YOU'RE GOING TO FIND THAT HE'S A VERY GOOD CITIZEN. HE'S AS NICE A MAN AS YOU'RE EVER GOING TO MEET."
POLLY SAMUELS/ASSISTANT ATTORNEY GENERAL: "HE'S BEEN ACCUSED OF SLEEPING, OR HAVING SEXUAL INTERCOURSE WITH HIS, WITH A WOMAN WHO IS BOTH HIS AUNT AND HIS COUSIN... IT'S A CRIMINAL MATTER. IT'S ON THE BOOKS."
Kingston and his attorney would not comment on the charges. But they did suggest he's likely to enter a "Not Guilty" plea.
Kingston's next court appearance is scheduled for August 21st.
×
Most recent Utah stories