Estimated read time: 3-4 minutes
This archived news story is available only for your personal, non-commercial use. Information in the story may be outdated or superseded by additional information. Reading or replaying the story in its archived form does not constitute a republication of the story.
SALT LAKE CITY (AP) -- Utah Lt. Gov. Olene Walker, a Salt Lake City Republican and one of the highest profile women in state politics, would become the state's first female chief executive if Gov. Mike Leavitt leaves for the top job at the EPA.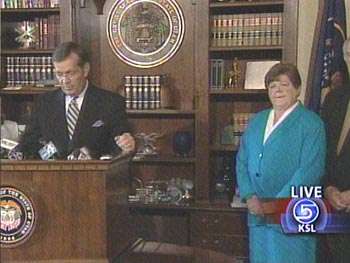 President Bush chose Leavitt, now in his third term as governor, to succeed Christie Whitman, a former New Jersey governor who held the post of EPA administrator for the first 21/2 years of the administration before resigning in May.
Leavitt faces a confirmation process in the U.S. Senate, and it's not known when he would leave the state and when Walker would take over. If she does become governor, she would serve the remaining 16 months of Leavitt's term.
At a news conference inside Leavitt's Capitol office, Walker, 72, said she's ready to succeed Leavitt should he win confirmation.
"For 11 years almost, I've been in a position to step in and serve. It's a challenge and opportunity but a remarkable responsibility and I'm prepared to do so," Walker said.
She said she would continue Leavitt's agenda, but added "there will be a few things that I put my own brand on."
Leavitt said Walker is "experienced, she's wise and she's levelheaded. I have no question that if this moves forward, as we hope, that she will acquit herself as one of the finest chief executives of this nation."
Walker, a native of Ogden, has spent much of her three terms championing various issues, led by literacy, housing for low-income families and health care. Her name is on the Olene Walker Housing Trust Fund, which loans money to multifamily housing projects.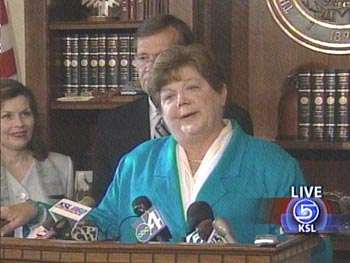 "It's fair to say people underestimated Olene, especially in the Legislature. And let me tell you, she came with her homework done and she rolled me a couple times," Nolan Karras, a gubernatorial candidate who served with Walker in the Legislature, said Monday. "She's as bright and capable a public policy person as we have in the state today. She knows what's going on."
Walker has taken on a number of special assignments for Leavitt, including his health care reform effort in his early days as governor.
Since that ended, Walker has headed a welfare reform task force and a statewide literacy program aimed at getting all children reading by the third grade.
Walker entered public service late, running for the Utah House when she was 50. She has a doctorate degree in education administration.
Considered by many a moderate Republican, Walker rose through the Republican leadership in the Utah House and was anticipating being the House's first female speaker until she was defeated in her bid for re-election in 1988.
She worked briefly for then-Gov. Norm Bangerter as his director of community development. In 1992 she ran for the 2nd Congressional District and was doing well in the race before she jumped out quickly to become Leavitt's lieutenant governor running mate.
"I've been in the private sector, in the education sector, in the House and in the executive branch. It's been a good experience. And I've seen I can have a soothing effect on debates" in government, Walker said in early 2000.
Walker has not said whether she would seek her party's nomination should Leavitt not run for a fourth term.
(Copyright 2003 by The Associated Press. All Rights Reserved.)
×
Most recent Utah stories