Estimated read time: 2-3 minutes
This archived news story is available only for your personal, non-commercial use. Information in the story may be outdated or superseded by additional information. Reading or replaying the story in its archived form does not constitute a republication of the story.
Jed Boal ReportingAs a wave of powerful thunderstorms swept across Northern Utah and Southern Idaho last night thousands of lightning bolts lit up the sky. One lightning bolt found its mark on a home in Whitney, Idaho and blew it to bits.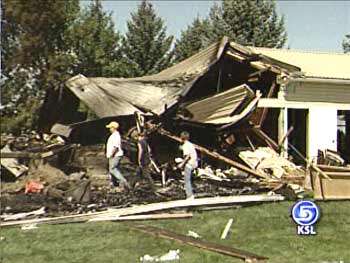 Thunderstorms pack an awesome punch. Every once in a while, we see just how devastating they can be. One awestruck community just across the Idaho border witnessed that power and today marveled at how lucky they are.
All that's left of Bob Moser's home is a garage and this crater filled with charred memories.
Bob Moser, Lightning Victim: "The impact was, there's no way to describe it."
An army of friends and family is salvaging what they can, photos, clothes, trying to clean up and make sense of this devastation. Around 9:30, as the storm raged, Moser went to the door to greet two home teachers.
Bob Moser, Lightning Victim: 'By the time I got to the door, I felt the power of the electricity and it blew me outside the door."
It kicked him 15 feet into the lawn, knocked him unconscious and showered his visitors with glass. Luckily no one else was home.
Dave Priestley was the second neighbor to arrive.
Dave Priestly, Neighbor: "It was just broke right in half. I saw it laying in half."
The explosion was so powerful it blew up the foundation and leveled a 20-ton slab of concrete. The insurance agent says he's never seen anything like it.
Grant Moses, Insurance Agent: "That's a total mystery, that a lightning bolt could strike here and they could survive 20 feet away; no way that should have happened."
A fire finished off the debris. Moser has a broken hand and cuts on his face. The two home teachers are recovering from cuts and the community is pulling together.
Bob Moser, Lightning Victim: "A great group has turned out. We really appreciate it."
The lightning hit near the electrical inlet to the house. Ten seconds earlier Moser would have been inside; ten seconds later all three people would have been inside and would likely have died.
×
Most recent Utah stories