Estimated read time: 2-3 minutes
This archived news story is available only for your personal, non-commercial use. Information in the story may be outdated or superseded by additional information. Reading or replaying the story in its archived form does not constitute a republication of the story.
SANDY -- Monday marks the 68th anniversary of the Japanese attack on Pearl Harbor. For those who were there and survived, many of the memories remain vivid and painful.
Louis Wolff will never forget the chaos, the anxiety and the emotional pain of December 7th, 1941. He was a 25-year-old chief petty officer stationed on the USS Maryland. He was on his way to church that morning when the Japanese fighter planes attacked.
"After the attack came in, I started back to the ship," Wolff said.
As he raced back to the battleship, gunfire from the planes whizzed by his face.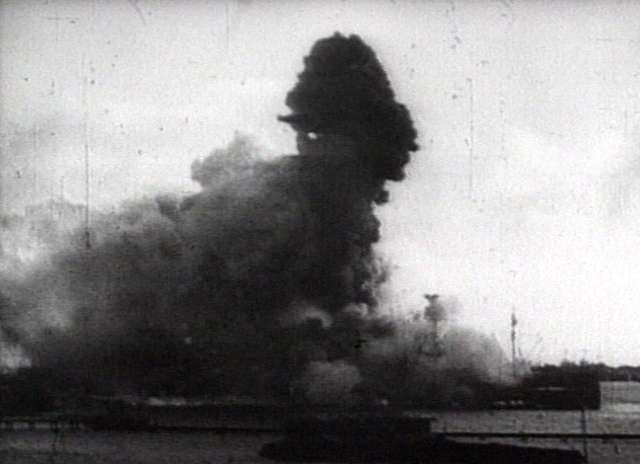 "This Japanese pilot shot at me, and I kind of felt the bullet go by my face," Wolff said.
The USS Maryland was moored inboard of the USS Oklahoma on Battleship Row, so it was relatively protected as the Oklahoma took as many as nine torpedo hits.
"They torpedoed the Oklahoma, and it sank in seven minutes. It sank right alongside the Maryland, and it stuck up so they couldn't torpedo the Maryland," Wolff said.
Wolff grew up on a ranch in Gillette, Wyo., the second-eldest of 13 children. He lost a brother in the war.
More than 2,400 Americans died that day, and Wolff still feels the raw emotions and tears up when he remembers the friends he lost and his 16 years of service in the Navy.
His picture and a thumbnail sketch of his service adorn the veterans' wall at Atria Senior Living Home in Sandy, where numerous other area World War II veterans have lived in recent years.
In the aftermath of the attack on Pearl Harbor, the military and many Americans lived in fear of another attack. Wolf said no one knew whether the Japanese would attack again, or even assault the islands with an occupying force.
As the war intensified, Wolff fought across the Pacific in the Battles of Tarawa, Iwo Jima and Okinawa.
"And [I] finally ended up taking the occupation forces into Japan," he said.
Wolff retired as a commission warrant officer in 1956 and received a Bronze Star for his service. After the war, he worked with the Bureau of Reclamation in Salt Lake City. He has five children, several of whom live in the area.
E-mail: jboal@ksl.com
×
Photos
Most recent Utah stories