Estimated read time: Less than a minute
This archived news story is available only for your personal, non-commercial use. Information in the story may be outdated or superseded by additional information. Reading or replaying the story in its archived form does not constitute a republication of the story.
Susan Wood ReportingThe gates at the Utah State Fair are open tonight and this year's attractions feature all the old favorites -- the carnival rides, the rodeo, livestock and entertainment.
Among all the fun and excitement are some of the largest, locally grown vegetables. We're talking about heads of cabbage that weigh more than 11 pounds and elephant garlic that certainly fits its name. There is a pumpkin that weighs about 300 pounds, and a 70 pound watermelon. But when it comes to eatin', bigger isn't necessarily what you want.
Bart Anderson, Agriculture/Horticulture Bldg. Mgr.: "What everyone wants is something that's tender and tasty, not something that's tough. And when they get past the mature stage they become tough, except in tomatoes. You want to remember there's only two things money can't buy and that's true love and home grown tomatoes."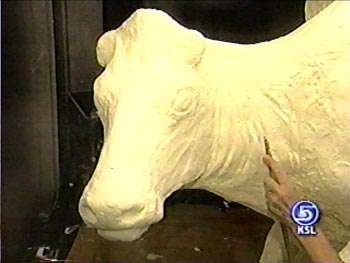 Inside the same building, you'll want to look for the butter cow sculpture. Visitors can see the final touches being put on the life-sized cow with recycled butter. It's the same butter used on last year's cow.
The fair runs through the 14th and it costs $7 for adults, $4 for children.
×
Most recent Utah stories