Estimated read time: 2-3 minutes
This archived news story is available only for your personal, non-commercial use. Information in the story may be outdated or superseded by additional information. Reading or replaying the story in its archived form does not constitute a republication of the story.
WEST VALLEY CITY -- The Nutcracker is one of the most famous ballets in the world and it's particularly popular during the holiday season. In West Valley City, some dancers preparing for an upcoming performance schemed with us to surprise a teacher who is doing more than just teach steps.
"Miss Margene" as she is affectionately known in this West Valley City community has a passion for dance and shares that love with people of all ages.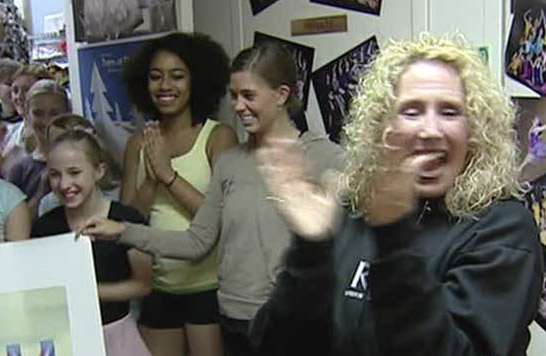 Over the past 30 years, more than 8,000 dancers have blossomed under Margene Conde's tutelage.
Her husband, Kevin Conde, nominated her for a KSL High 5. He said, "It is extremely emotional when we know that we're working on our second, almost third generation of children that have danced with her. Children of the children are now dancing with her and learning educational preschool. That's pretty cool. That's quite an accomplishment."
Miss Margene hopes her students also learn self respect and the importance of taking care of others.
"It's not for me," she said. "It's for the children. It's for their self-esteem and for their building up of their character to become those well-rounded human beings."
Student Ahmari Cameron said, "Margene likes to work with you and talk to you about what you can fix and what you can do. She's never rude about it. She's always very sweet and she never says anything rude to you."
"She's taught me to be a better person, too," Ahmari added.
Kim Neff said, "She's just my best friend. She's a second mom. You couldn't ask for anything more. She's like that for every student here, definitely."
For the last 21 years the highlight of the year has been Miss Margene's production of The Nutcracker, featuring every member of her dance family.
Dancers range in age from 3 to 27, shining inside and out.
Miss Margene said, "If anyone asks me what I've done for the children, it's for them to be able to respect each other."
Kevin Conde said, "I've been proud to be able to be a part of her dream, teaching over 8,000 children over the years."
Miss Margene's Dance Company production of The Nutcracker is planned for next Wednesday and Thursday at Hunter High School.
As part of her High 5, Miss Margene is receiving tickets to Pioneer Theatre's production of A Christmas Story playing through Dec. 19.
To nominate someone for a High 5, click the link on this page.
E-mail:bwalker@ksl.com
×
Related links
Most recent Utah stories