Estimated read time: 1-2 minutes
This archived news story is available only for your personal, non-commercial use. Information in the story may be outdated or superseded by additional information. Reading or replaying the story in its archived form does not constitute a republication of the story.
Sam Penrod ReportingHeavy rains in South Eastern Utah caused flash floods that still have rivers overflowing their banks. And in the North, the first snow of the season dusts the mountains.
Heavy thunderstorms hit the four corners area yesterday evening. Flash floods in San Juan County left some people stranded overnight and in some areas the water levels are still rising.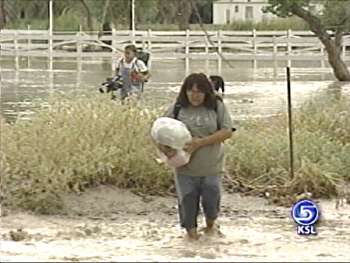 People were evacuated after their homes flooded and heavy machinery has to be rescued to keep it from sinking out of site. In Bluff, the San Juan River has been as high as 10 feet above flood stage.
Rain is what the area desperately needed, but so much at once turned into a disaster. Water washed out part of a bridge and nearly covered the road.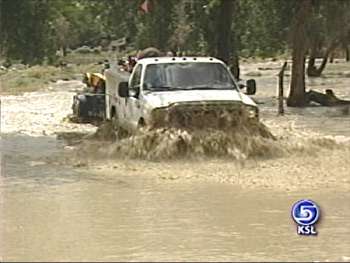 Flash floods caught several people in the back-country off guard. Three people got stranded on the wrong side of a normally dry creek bed. This morning the three hiked out after a cold night waiting for the water to recede.
The flood waters from Montesuma Creek began draining into the San Juan river which started overflowing its banks this morning. Several homes on the edge of the Navajo reservation are flooded and residents are just trying to save what belongings they can. Meanwhile they are desperate for government help.
Currently, the skies are blue and residents are hoping the flooding will start to recede in the next few hours.
Snow fell in the mountains today as well. In the North, the mountains received four to 10 inches of heavy wet snow. Now the storm is moving out, the skies are clearing, and tonight is expected to be cold.
×