Estimated read time: 2-3 minutes
This archived news story is available only for your personal, non-commercial use. Information in the story may be outdated or superseded by additional information. Reading or replaying the story in its archived form does not constitute a republication of the story.
Sandra Yi ReportingA new playground at Arcadia Elementary School is showing kids that disabilities don't have to be disabling.
Seven-year old Justin Rosvall was speechless when he saw his school's new playground.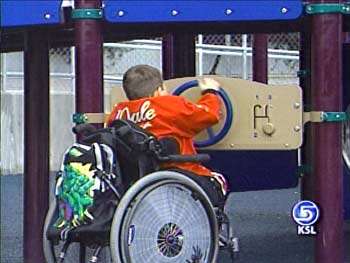 Justin Rosvall, 1st Grade Student: "I'm like, 'whoa'. I didn't know they were going to have that thing here."
The big, colorful play structure is for all kids, but designed for students with disabilities like Justin, who's in a wheelchair. It's the first fully accessible playground in the Granite School District.
Parents like Kim Allen helped raise money for the playground. Allen's six-year old son Luke, who's in a wheelchair, is a first grade student at Arcadia Elementary. She says now Luke can play with the other kids and not just sit and watch.
Kim Allen, Parent: "They learn that Luke is a boy. Luke is just a boy like them. His legs don't work but he is a boy and wants to play."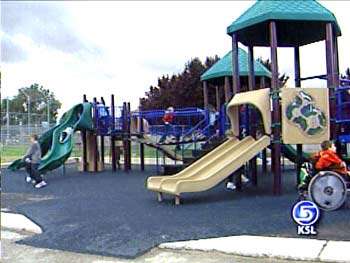 The Playground Committee modeled the structure after a similar one in the Jordan district. There are smaller steps for kids with slow motor skills, wheelchair ramps and a transfer module.
Lynette Simmons, Playground Committee: "A child who is in a wheelchair can bring the wheelchair right up to this point and, assuming the person has upper body strength, it's adequate. He or she can pull off the wheelchair onto the transfer module and go up and independently play."
A clatter bridge was also designed to teach kids balance and coordination.
Shauna Nielsen, Principal, Arcadia Elementary School: "Everybody can do something on this playground, whether they have a mild disability or no disabilities."
And it's a big hit with all the kids.
Maddison Fritsch, 1st Grade Student: "I like how to go down the green slides."
Kolton Ollis, 2nd Grade Student: "Wheelchair people can play on it and it's bigger than the other playground. And the other playground was not that fun."
For Justin, it's just a dream come true.
Justin Rosvall: "Recess is my favorite part of school."
The playground will be open to all the kids in the community.
×
Most recent Utah stories
More stories you may be interested in