Estimated read time: 3-4 minutes
This archived news story is available only for your personal, non-commercial use. Information in the story may be outdated or superseded by additional information. Reading or replaying the story in its archived form does not constitute a republication of the story.
WASHINGTON (AP) -- Utah Gov. Mike Leavitt, his nomination to head the Environmental Protection Agency embroiled in the 2004 presidential election campaign, appealed Tuesday to the Senate to look at his environmental record in judging his fitness for the job.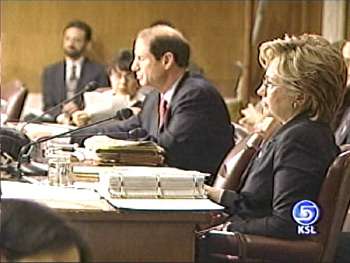 Senate Democrats, many of them friendly to Leavitt as fellow Westerners or former governors, showed support for Leavitt or conspicuously refrained from criticizing him, even as they tried to use his hearing to scrutinize President Bush's environmental record.
"We've got a good man here, but I'd like time ... to examine these issues," Sen. Ron Wyden, D-Ore., said.
"Many of us are a little concerned about the administration that you're attempting to join, and the policies that it has taken toward the environment," said Sen. Hillary Rodham Clinton, D-N.Y.
Leavitt said he "answered the president's call" to join his administration because he passionately believes in the need for a clean and healthy environment. "It was his commitment that attracted me to this goal," Leavitt said of President Bush. "I won't pull punches with him, but I will tell him, sometimes in private, how I feel."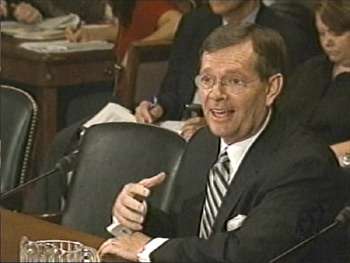 As an example of his record, Leavitt cited his role in helping improve air quality in the Grand Canyon through a regional commission trying to beat a federal deadline for taking over the task.
"This experience taught me that enforceable national standards can be a catalyst to bring parties together, but national standards work best if participants are allowed to use innovative neighborhood strategies," Leavitt said in testimony prepared for the Senate Environment Public Works Committee.
He also described the state's cleanup of groundwater contamination at the Kennecott Copper Mine, the largest mine-related water reclamation project in U.S. history.
"It was accomplished without a dime of Superfund money and in a fraction of the time it would have taken if it had become a Superfund site," Leavitt said, referring to EPA's nationwide toxic waste cleanup program. "It was a great collaboration, and it occurred because well-meaning people (industry and regulators alike), joined together to solve a problem in a cost-effective and timely way."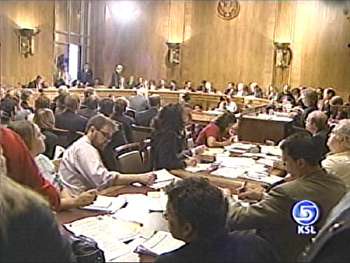 Sen. James Inhofe, R-Okla., who chairs the Environment and Public Works Committee, praised Leavitt's credentials and made a pitch for Bush's environment policies, trying to pre-empt criticism.
"You're going to hear ... President Bush is letting polluters off the hook -- absolutely false," Inhofe said.
Among the questions Leavitt was expected to encounter was why he fought so hard to build a highway north of Salt Lake over objections from the EPA, which argued it would damage delicate wetlands and bird habitat.
Utah Republican Sens. Orrin Hatch and Robert Bennett introduced Leavitt. "I can personally think of no one better for the job," Hatch said. "He's fair and honest and everybody knows it."
Two senators contending for the Democratic presidential nomination -- Joe Lieberman of Connecticut and John Edwards of North Carolina -- each have threatened to use parliamentary devices to prevent Leavitt from taking office, citing their opposition to Bush administration environmental policies. Lieberman and Sen. Bob Graham, D-Fla., another presidential hopeful, didn't attend the committee hearing because they were campaigning.
Clinton was the first to threaten to block the nomination because of an EPA inspector general's report that found that White House officials persuaded the agency to tone down its assessment of possible health threats from asbestos, soot and PCBs after the World Trade Center collapse.
The hearing's dynamics reflect congressional Democrats' strength on the environment. Asked in an August poll for Newsweek who would do a better job on the environment, 53 percent said Democratic leaders in Congress, 29 percent said Bush.
Only a simple majority on the committee is required to send Leavitt's nomination to the full Senate. With 11 Republicans, eight Democrats and one independent on the panel, there was little doubt he would win the committee's approval. A committee vote is not expected for at least a week, to allow for follow-up questions.
A single senator can put a hold on a nomination, preventing it from being scheduled for a floor vote.
(Copyright 2003 by The Associated Press. All Rights Reserved.)
×
Most recent Utah stories