Estimated read time: 2-3 minutes
This archived news story is available only for your personal, non-commercial use. Information in the story may be outdated or superseded by additional information. Reading or replaying the story in its archived form does not constitute a republication of the story.
John Hollenhorst Reporting One of Utah's most popular wintertime attractions shut down suddenly today. It just isn't wintry enough, and the main attraction has headed off to colder places.
Generations of nature lovers have enjoyed a highlight on the winter agenda, a chilly visit to the elk at Cache County's Hardware Ranch. But now, thanks to an early spring, or a fizzled winter, there's no reason for people to go: the elk are gone.
Back in December there was not a lot of snow at the Hardware Ranch, but enough to keep elk out of the mountains and feeding in the meadows, delighting many Christmastime visitors.
Mark Hadley, Utah Div. of Wildlife Resources: "We were enjoying near record visitation. We had tons of people coming up there. We had tons of snow, lots of elk."
And now, just six weeks later, look at the pathetic snow cover in this picture taken two days ago.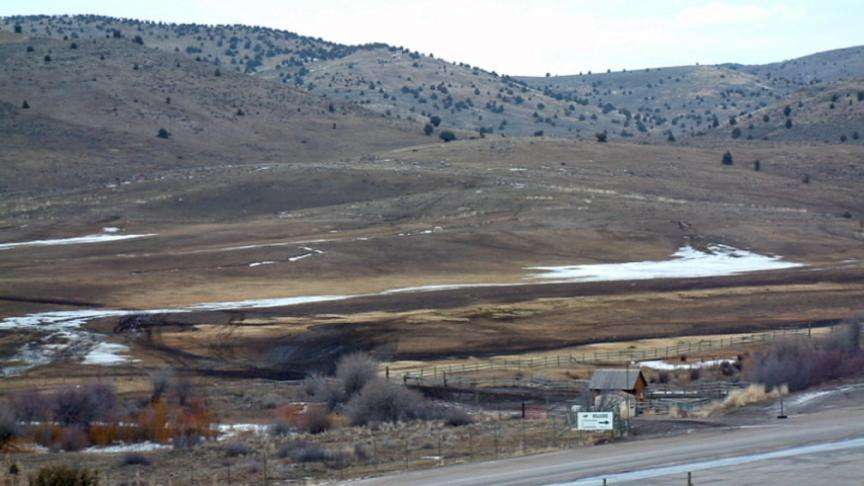 Even a dusting of fresh snow on the ground today doesn't change the picture. The elk season is over and Hardware Ranch is closed. Ruts and mud mark the territory where wagons and sleighs usually roam this time of year.
Mark Hadley, Utah Div. of Wildlife Resources: "The elk have left the ranch; they can go up and find food now up in the mountains. So the elk have all left. So there's no opportunity to view elk at Hardware Ranch right now."
It's the earliest closure for Hardware Ranch in recent memory. Usually sleigh rides and wagon rides continue to the middle of March. Officially, winter is still here, and more snowstorms are certainly possible. But, for all practical purposes at Hardware Ranch, winter is over, spring has sprung.
Mark Hadley, Utah Div. of Wildlife Resources: "We just don't think the with weather, we're going to get enough snow and cold enough temperatures to drive enough elk back down into the management area."
This does matter to people. We heard of one man planning a marriage proposal during a wagon ride at Hardware Ranch. He has to rethink his plans now, if not for the marriage, at least for the proposal.
×
Most recent Utah stories