Estimated read time: 2-3 minutes
This archived news story is available only for your personal, non-commercial use. Information in the story may be outdated or superseded by additional information. Reading or replaying the story in its archived form does not constitute a republication of the story.
Coco Warner ReportingStories of love and romance are often told from a more youthful perspective -- all about that first love or first kiss. But what if the first time you met was at a senior center, and what if happily ever after didn't begin until age 80.
There were typical sentiments from your average blushing bride, but Gloria Jones may skew the statistics just a bit. She's 81 and her handsome groom is 68.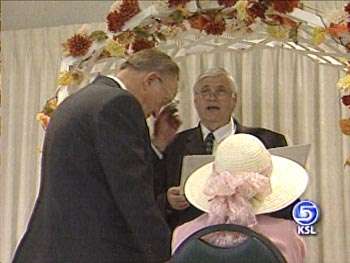 Mark Hamblin, Groom: "We're both old enough to get married."
Gloria Jones, Bride: "Not only that, I'm young for my age.
Mark Hamblin: "and I'm old for mine."
The couple met nearly six months ago and although Salt Lake City's Liberty Senior Center has had its share of love matches there have only been a few weddings.
Nancy Freeman, Liberty Senior Center: "We have not had a lot of them, but we have had several couples that have met and we've had receptions for them, so it does happen from time to time."
Little did the two know when they met in the lunchroom last May that they'd end up married.
Mark Hamblin: "And we had vowed never to marry again, until we met each other."
Gloria Jones: "But there really was just something special because life's lonely. I can't imagine being without him."
So maybe the Bride's march up the aisle took a little bit longer and the wedding bands were placed on older fingers. But Mark and Gloria believe this is what makes today even more memorable.
Mark Hamblin: "We have so many things that we found in common, that we just naturally fell into each other's arms."
Because some things--like love--are pretty great no matter what the age.
The happy couple plans to celebrate this weekend at Crystal Hot Springs outside of Brigham City, and honeymoon next summer in Alaska.
×
Most recent Utah stories