Estimated read time: 1-2 minutes
This archived news story is available only for your personal, non-commercial use. Information in the story may be outdated or superseded by additional information. Reading or replaying the story in its archived form does not constitute a republication of the story.
Sandra Yi ReportingA UTA bus and car collided in a busy downtown intersection this morning, seriously injuring the car's driver. The driver was knocked unconscious and it was a good samaritan that came to her aid.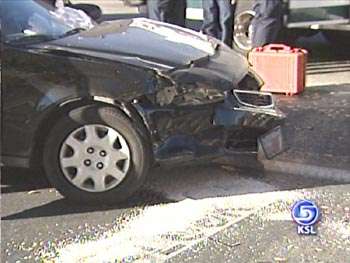 The bus and car collided at the intersection of 200 South and 300 West before ten o'clock this morning. The bus wasn't going very fast, but the impact was strong enough to push the car to the curb and seriously injure the driver.
Police say the car was at the intersection when the driver turned south, right in front of a UTA bus that was heading east on 200 South. Upon impact the driver lost consciousness for a few minutes and her car went out of control. That's when a passer by saw what was happening and ran to help.
Sgt. David Thurgood, Salt Lake City Police Dept.: "A good samaritan actually got off his motorcycle and saw the car in distress and stopped the car. It rolled from the point of contact here before it could get stopped."
Police couldn't tell us exactly how the man stopped the car, and we don't know his identity. He was gone before we arrived on the scene. But as you heard, police are calling him a good samaritan.
The woman's injuries were serious and she was taken to the hospital. UTA says there were passengers on the bus, including the bus driver, but none of them were hurt. The crash did stall traffic at the intersection for about 15 minutes as crews did clean up.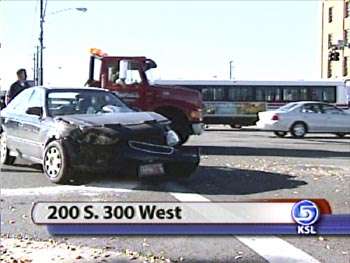 ×
Most recent Utah stories