Estimated read time: 1-2 minutes
This archived news story is available only for your personal, non-commercial use. Information in the story may be outdated or superseded by additional information. Reading or replaying the story in its archived form does not constitute a republication of the story.
Karen Scullin ReportingAn Ogden woman will soon be on her way to New York City after becoming one of eight finalists for the "Today" Show's Superstar Contest.
JoDee Stott was surprised very early this morning with a loud knock at the door. Our Karen Scullin was there on behalf of NBC, to bring JoDee the good news.
It was JoDee's mother who told her to give it a shot, send a tape to the Today Show's Superstar Competition and see what happens. At about 6:40 this morning we crept up to her door to deliver the good news.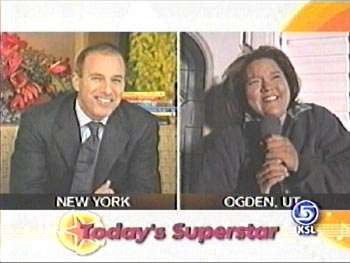 "Knock-knock-knock...JoDee Stott? You're a today show superstar finalist!!"
Jodee: "I almost knocked you off the stairs"
"That's alright, congratulations!"
JoDee's excitement grew even more as she spoke to "Today's" Matt Lauer.
JoDee: "This is so awesome, I can't believe it! My hair probably looks like crap!"
But obviously overwhelmed she couldn't remember the ages of her three young children!
Singing is a passion for JoDee--- she's performed at the "Miss Utah" pageant, she sang the National Anthem at a Jazz game, but Tomorrow night she heads to New York for her first big break.
There were six thousand people who sent in a tape. Eight made the final cut. All of them, including JoDee, will be in New York on Friday; you can watch them on the Today show.
×