Estimated read time: 2-3 minutes
This archived news story is available only for your personal, non-commercial use. Information in the story may be outdated or superseded by additional information. Reading or replaying the story in its archived form does not constitute a republication of the story.
SALT LAKE CITY -- Many of us are taking to the highways this holiday weekend -- which can be dangerous, even deadly for those who get in accidents.
But even though there are more vehicles on the roads, accidents are down, and you might be surprised to find out why.
In 2007, a terrible crash in Parleys Canyon claimed the life of 3-year-old Alexis Paget. That accident inspired the Utah Department of Transportation to install cable barriers in the median.
"My wife and daughter were in the second car, so they probably, for sure would have saved my daughter's life," says Timothy Paget, Alexis' father.
UDOT has been systematically installing steel cables on many roads, particularly interstates in urban areas, like on the west side of Interstate 215. In crash after crash after crash, they've worked -- absorbing the energy of an out-of-control vehicle, keeping it from bouncing back into traffic.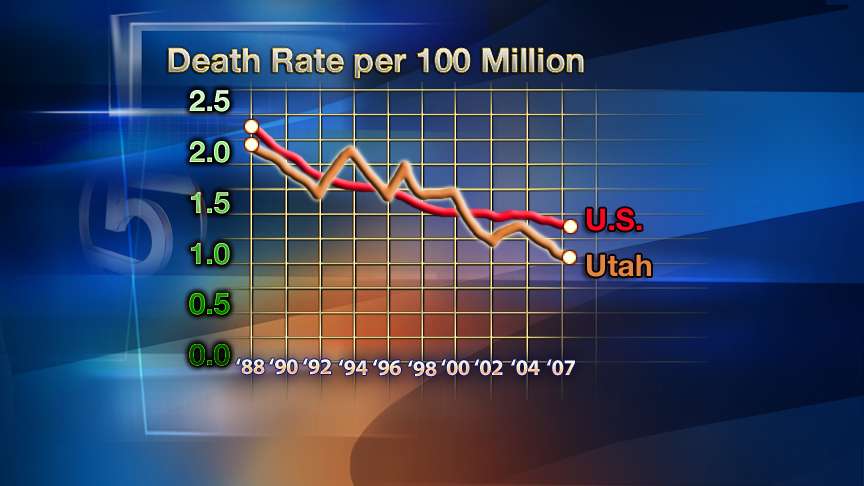 "Where we have installed the cable barrier we have seen a reduction of all fatalities associated with median crossover crashes," says Robert Hull, director of traffic and safety for UDOT. "We haven't had a fatality associated with anybody going through it."
The cables are also about 75 percent cheaper to install than concrete barriers. That is allowing UDOT to put more barriers in.
"Where we may have only be able to do a couple of miles of concrete barrier, we've been able to do 8, 10, 12 miles worth of cable barrier," Hull said.
The barriers do not work everywhere, but Hull said they are effective in straight stretches of road where the median is narrow.
More are being installed right now along I-215 near the Legacy Parkway, Bangerter Highway and along I-15 in Southern Utah.
Both nationally and in Utah, traffic fatalities per vehicle miles traveled continues to drop steadily, and it has to do as much with roads as with the vehicles.
Experts credit improvements in what they call the 4Es: education, enforcement, emergency response and engineering.
"The bad news is that we're still losing too many people on the roads. The good news is that more information is coming out and more scientific research is being addressed to these issues," says Rolayne Fairclough with AAA.
With the latest construction techniques, roads are smoother and safer. Lower-cost solutions have helped, like better signage, stripping, rumble strips and those cables.
"We still have 300 people, 275 people a year die on our roadways. We still need to look for ways to improve safety on the roadways," says Hull.
The key to more improvement -- safety belts. In 2008, 270 people died on Utah's roadways. Most died because they weren't wearing seat belts.
In Utah, the number of highway fatalities has dropped 24 percent over the past eight years.
One trouble spot nationally -- motorcycle fatalities. They've been increasing for the past decade and last year accounted for 14 percent of total fatalities.
------
Compiled with information from John Daley and Marc Giauque.
×
Related links
Most recent Utah stories