Estimated read time: 2-3 minutes
This archived news story is available only for your personal, non-commercial use. Information in the story may be outdated or superseded by additional information. Reading or replaying the story in its archived form does not constitute a republication of the story.
Ed Yeates ReportingEngineers today triggered what could be the most powerful space shuttle rocket motor ever tested. Some five thousand spectators showed up to watch the static firing in northern Utah.
ATK Thiokol engineers static fire rocket motors all the time at its test site in Promontory, but today was different. At first it was a silent fireball, then the roar hit the crowd.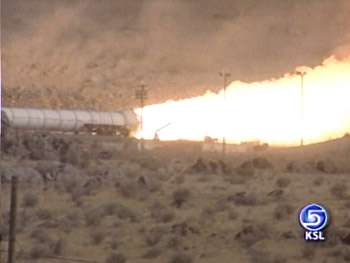 Instead of 3.2 million pounds of thrust, which normally boosts the shuttles into space, this one kicked out 3.6 million pounds of thrust. VIP's watched from a safe distance about a mile away. The rocket motor thundered across the hills for 128 seconds - five seconds longer than a conventional burn.
Cary Ralston, ATK-Thiokol: "The normal four-segment booster is about 15 million horsepower. This cranked it up to about 19 million horsepower. That's a lot of Corvette engines."
Engineers pushed this motor to its boundaries mostly to test safety margins. But in theory, an extra boost - such as this - on future space flights - might prove useful for heavier payloads or in the event of a failure.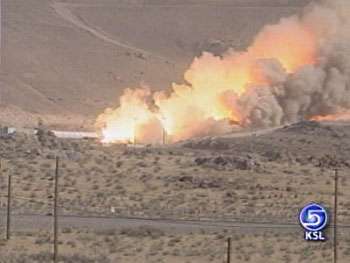 Jeff Ashby, NASA Astronaut: "To give us the capability if we lose space shuttle engines to reach orbit - even though we've lost a space shuttle engine."
Jeff Asby and other astronauts were there to see the test and meet some of the spectators, who included lots of students from schools across the Wasatch Front. The clapping there today was not only for a spectacular show, but symbolic perhaps for NASA's return to space after a very rough and tragic year.
Major Gen Michael Kostelnik, Space Station & Shuttle Deputy Administrator: "But now we're in this mode of recovering - recovering the space shuttle, trying to recover our assembly into the international space station. Really the hard part of returning to flight is getting people involved in this process."
×
Most recent Utah stories