Estimated read time: 5-6 minutes

This archived news story is available only for your personal, non-commercial use. Information in the story may be outdated or superseded by additional information. Reading or replaying the story in its archived form does not constitute a republication of the story.

PROVO -- Well, here it is. Although the outcome of this game doesn't promise a winner to the BCS or a conference championship, it should be producing just as much hype as recent rivalry games. Both teams have 9-2 records. Both teams are ranked in the top 25. BYU is going for its 200th win at LaVell Edwards Stadium. The Utes have won 5 of the last 7 games against BYU and 6 of the last 8 in Provo.

Breaking down this game statistically, the game is tilted slightly to BYU with one glaring stat.
| Statistical Analysis | ![](http://www.ksl.com/images/team_logo/ncaa/byu.png) BYU | ![](http://www.ksl.com/images/team_logo/ncaa/utah.png) Utah |
| --- | --- | --- |
| Points per Game | 35.5 | 29.8 |
| First Downs | 259 | 208 |
| Rushing Yards (per game) | 149.7 | 176.0 |
| Passing Yards (per game) | 303.0 | 221.9 |
| Total Offense (per game) | 452.7 | 397.9 |
| Kickoff Return Average | 23.1 | 21.7 |
| Punt Return Average | 5.0 | 8.1 |
| Fumbles-lost | 14-8 | 31-11 |
| Penalty Yards (average) | 66.6 | 68.4 |
| Time of Possession (per game) | 31:05 | 30:41 |
| 3rd Down Conversion | 58% | 41% |
| 4th Down Conversion | 33% | 23% |
| Red Zone Scores | 45-52 | 31-39 |
The Cougars score 6 more points per game. That is slightly misleading because after Utah made the switch from Terrance Cain to Jordan Wynn, the Utes score an average of 37 points per game. That includes the matchup with the 4th ranked defense in the country (TCU).
Most of the offensive statistics have changed dramatically for Utah since the Quarterback change, but the most glaring stat is the 3rd down conversion rate. BYU is tops in the country connecting on a 58% rate. Utah's defense is ranked 8th in the nation letting opponents convert at a 30% clip. Something has to give when it comes to that statistic.
BYU is used to staying on the field and sustaining drives while Utah's defense is used to halting drives and bringing on the punt return unit. This situation brings up a few different scenarios. The Utes defense has owned Max Hall in the obvious passing situations. Three of Hall's five interceptions in last year's contest were thrown on 3rd down, and the first interception was followed by a personal foul penalty. Utah clearly confused him, blitzing from one side, blitzing form the other, dropping lineman into zone coverage - Utah flat out confused him. Can that happen again? It is unlikely that Hall will throw 5 interceptions again, but he does make mistakes, he has thrown 14 interceptions this season. The Utes defensive game will be won on 3rd down. If they can get off the field, they give the offense a chance to do their damage.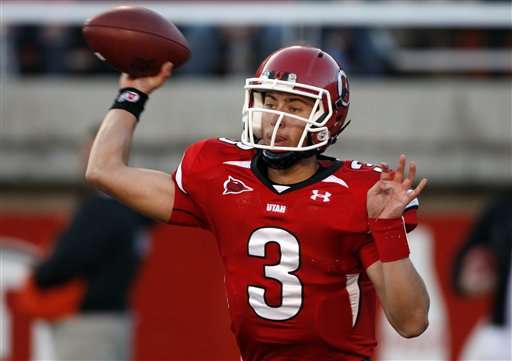 Offensively for Utah, the questions have to start and end with Jordan Wynn. He has the weapons. Jereme Brooks, David Reed, John Peel, Aiona Key, Eddie Wide out of the backfield. BYU must prepare for a whole slew of individuals running the ball for the Utes, most notably Eddie Wide. Shaky Smithson will play a role, Sausan Shakerin, and with some of the trick plays that have happened in the past, don't be surprised to see Jordan Wynn and Terrance Cain out on the field at the same time. Trick plays are secondary though.
How does Wynn be successful against BYU? Wynn needs to take care of the ball. On the year he has thrown 5 touchdowns and 2 interceptions. He has only dropped back to pass 102 times this whole season. He is young in every sense of the word, especially compared to his counterpart Max Hall. Wynn's costliest turnover was the interception returned for a touchdown against the Horned Frogs. If Jordan Wynn stays away from the turnovers, Utah should be fine.
Related:
Don't think that Utah won't take their shots down field. One advantage that Utah has over BYU is speed. If Wynn can get the ball to his receivers, and spread the ball around, it could pose a long day for the BYU defense. One part of the game that has come into play since Jordan Wynn became the starter is the long ball, and with Wynn at the helm, the Utes will take their shots down the field. Look for Wynn to have worked on a pump fake to catch the Cougars corners and safeties out of position. Jereme Brooks and David Reed have each had touchdowns over 60 yards this season. Jordan Wynn likes to throw the ball deep, something he is very accurate at. So much of how the Utes fare in Provo depends on their freshman quarterback.
Conclusion:
In recent years, the rivalry has been so tight. There is a different feeling this year among Cougar fans. They believe that this is their year to beat the Utes, and have almost no worry. They think it is a sure thing. Recent history and statistically that is simply false. This game is always close. The Utes love playing in Provo and play well there, winning 6 of the last 8 at LaVell Edwards Stadium.
What is at stake for Utah? The Utes could sway the rivalry their way. Over the last 2 decades, this rivalry has been split dead even. Utah has won 10 of the last 19 games. If BYU wins, it will be dead even. If Utah wins, they can take decade bragging rights. Does any rivalry get any closer than this?
No.
×
Most recent Utah stories