Estimated read time: 3-4 minutes
This archived news story is available only for your personal, non-commercial use. Information in the story may be outdated or superseded by additional information. Reading or replaying the story in its archived form does not constitute a republication of the story.
SALT LAKE CITY -- A Utah woman who suffered the nightmare of locked-in syndrome is thriving today, even though doctors recommended allowing her to die eight years ago.
Experts are casting doubt now on a story making headlines out of Belgium -- a man thought to be in a coma for 23 years, now discovered to be fully conscious.
Whether his story is true or not, a Utah woman can relate to it. She might have had a similar fate, or she might be dead, if a nurse hadn't noticed a spark in her eyes.
Nissa Smith speaks and walks with some difficulty, but she's miraculously improved from eight years ago when she seemed lifeless in a hospital bed and couldn't speak at all.
"I wanted to call out for someone to come to the room," Smith says, "but I couldn't do it."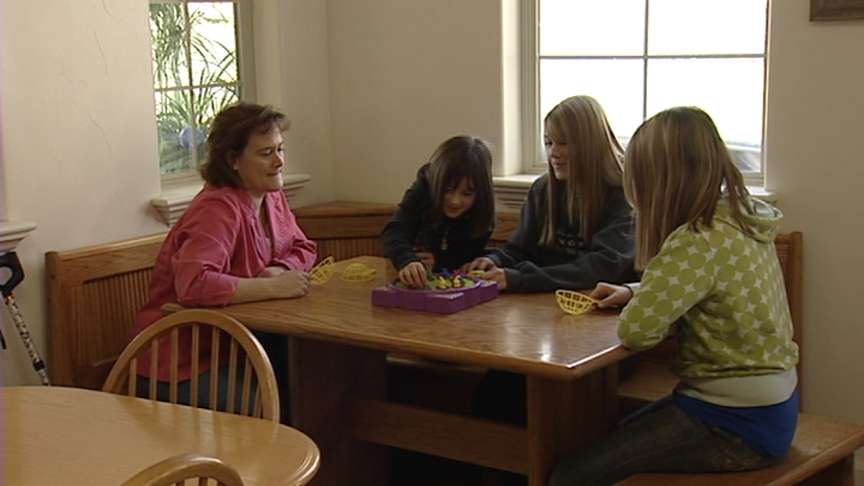 She knows what it feels like when a fully conscious mind is imprisoned in a body that doesn't work. "Yeah, trapped," she says. "Trapped."
She's capable of enjoying her three daughters now. Eight years ago, just a week after Thanksgiving, her youngest had just been born. According to her sister, Geri Marshall, "She was up nursing her one-month-old baby when she suddenly collapsed."
It was an apparent stroke. The following night, in the hospital, she suffered a far more serious one.
"In the middle of the night, after she was found slumped over and unresponsive," Marshall says. "From then on she had lost everything."
Smith describes the nightmare. "I couldn't talk," Smith said. "I couldn't move. I couldn't do anything. But I knew what I wanted to say and do, but I just couldn't do it."
After brain scans, doctors feared the worst. Marshall recalls, "They called us together as a family and said 'How you see her today is how she will be until you let her go. We recommend that you call the family together, tell her goodbye and let her go.'"
The next morning, Smith was still motionless, with her eyes open. Marshall says, "But a nurse came in and said, 'I think she's in there. Do you mind if I do an experiment?'"
The nurse started by asking Smith to close her eyes, which she did slowly.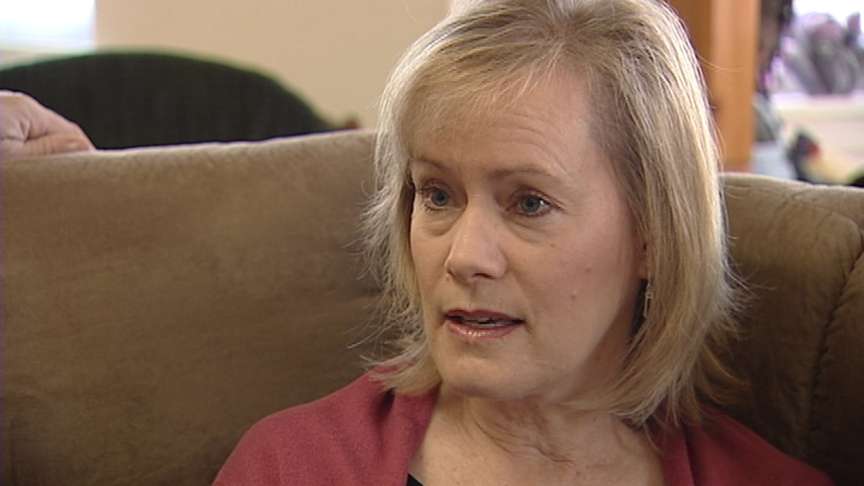 "So the nurse said 'Nissa, if you can hear me, close your eyes twice,'" Marshall says. "And she very slowly closed her eyes twice. And that was a huge, huge moment of recognition for us that she was there."
Within hours, they'd learned to communicate in words. Smith blinked her eyes to choose spoken letters of the alphabet. It gave her hope. She began emerging from her prison several months later.
"Just getting back to my world, I guess," Smith says, "being a mom."
After months and then years of therapy and hard work, she slowly regained much of what she had lost. "We've just sort of been walking uphill, slowly, ever since, back to who you see today. She's a wonderful mother," Marshall says.
Smith feels lucky to have emerged from what doctors call locked-in syndrome and to have had years of interaction with her three daughters.
"Just to watch them grow and mature makes me happy," she says.
Her goal one day is to run with her children, a dream that was unthinkable until a nurse acted on a hunch.
Smith's sister Geri Marshall recently published a book about her experiences. "I'll Walk With You" is available at Amazon.com, or through her website.
E-mail: hollenhorst@ksl.com
×
Related links
Related stories
Most recent Utah stories