Estimated read time: 2-3 minutes
This archived news story is available only for your personal, non-commercial use. Information in the story may be outdated or superseded by additional information. Reading or replaying the story in its archived form does not constitute a republication of the story.
SALT LAKE CITY (AP) -- Gov. Mike Leavitt formally resigned Wednesday to head the federal Environmental Protection Agency in a pomp-filled ceremony that also saw his lieutenant, Olene Walker, sworn in as Utah's first female governor.
Leavitt became the first Utah governor to leave office before the end of a term. He was scheduled to leave for Washington later Wednesday and take his EPA oath Thursday before an inauguration at the time of President Bush's choosing.
During the same ceremony in Utah's Capitol Rotunda, Vernal lawyer Gayle McKeachnie was sworn in as Walker's lieutenant governor.
Walker, 72, will serve out the remainder of Leavitt's term, set to expire in January 2005, but has not indicated whether she plans to seek a full-term in the 2004 election.
In her first words as Utah governor, Walker wisecracked that one of the first tasks tackled by her newly assembled staff was the weather. It has snowed in the Salt Lake City area for six straight days.
"We've spent the last week working on the drought, and we've been somewhat successful," she said to laughter.
Turning serious, Walker reflected on the historical moment and the challenges ahead: "The time is now. I plan to go to work today."
Political speculation has focused on Walker's recent appointments within her office, which include Leavitt attorney Gary Doxey as chief of staff and Leavitt budget director Lynne Ward as deputy chief focusing on legislative and budget issues.
Some say those appointments suggest Leavitt is quietly keeping his hand in Utah politics, but others say only the foolish would write off Walker. Despite her public support for Leavitt, she has wrestled with him to influence education and human services policies.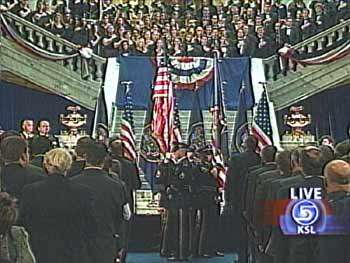 Walker has shrugged off the speculation, insisting she will make her mark and explaining her appointments by saying she didn't want to waste time "breaking people in."
Walker has echoed Leavitt on key issues, including education. Like Leavitt, Walker has said she won't consider tuition tax credits until Utah's public schools are adequately funded.
Much of her inaugural speech focused on schools, telling the audience of business, government and religious leaders that "education is in my DNA."
She said even though Utah has one of the highest literacy rates in the nation, "we can do better." She urged parents to increase their roles in children's education.
"Good education demands not only adequate public funding, but personal investment of time," she said.
(Copyright 2003 by The Associated Press. All Rights Reserved.)
×