Estimated read time: 2-3 minutes
This archived news story is available only for your personal, non-commercial use. Information in the story may be outdated or superseded by additional information. Reading or replaying the story in its archived form does not constitute a republication of the story.
Sam Penrod ReportingShots were fired during an armed standoff in a West Valley neighborhood this afternoon and a man is in jail, thanks in part to help from the fire department.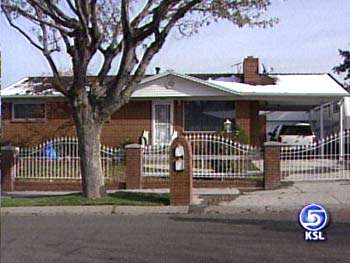 The standoff apparently started as a domestic dispute, but that was only the beginning. In the end a car was stolen, shots were fired and the suspect was arrested on the roof of a house!
It's not very often that a fire truck is called out to help make an arrest, but that's exactly what happened this afternoon. This suspect was arrested on the roof of a home, and a hook and ladder truck from the fire department lowered the fugitive to the ground.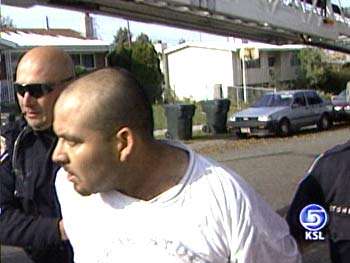 The man apparently had a fight at an apartment, pulled a gun and stole a car owned by the woman he lives with. The man abandoned the car several blocks away. Then for some reason he climbed onto the roof of a house and started waving a gun at neighbors!
Loretta Lawrence, Neighbor: "We looked up there and saw a man up there. And he looked at us and waved a gun at us and said 'I have a gun'. And we didn't know if he was going to shoot us or what."
Jared Kendell, Neighbor: "They had a couple of words going back and forth and I heard a couple of shots. One or two shots, I think. That's when a whole bunch of cops from the other roof came. That's when they got him."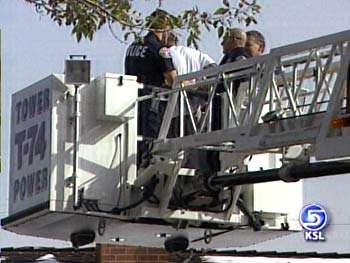 After the man was handcuffed, police called in the fire truck to take him off the room. Police also locked down nearby Whittier Elementary as a precaution since one of the children who live in the home attends school there.
As far as a motive for all this, police are still investigating but say there is evidence the suspect was high on drugs.
The owners of the house where the man was arrested were not home during all of the action. They were having lunch and celebrating their 49th wedding anniversary.
×
Most recent Utah stories