Estimated read time: 2-3 minutes
This archived news story is available only for your personal, non-commercial use. Information in the story may be outdated or superseded by additional information. Reading or replaying the story in its archived form does not constitute a republication of the story.
Dr. Kim Mulvihill Reporting If there's a baby in your future or the future of someone you love, there's something new to consider. Some call it the 12-month pregnancy, while others call it pre-conceptual counseling. Doctors say it may save the life of your baby.
As an obstetrician, the goal for women in pregnancy is always the same: a healthy baby and a healthy, happy mom. But that's not always the reality.
Doreen Lafferty: "I didn't think I could conceive and I did and um, at six weeks, I had a miscarriage."
Doreen Lafferty miscarried after trying to get pregnant for two years. Shahida Mincy was at 22 weeks when she miscarried.
Shahida Mincy: "When I lost that baby and I was kind of hesitant about getting pregnant again."
Hoping to get pregnant again, but with better outcomes, both women went to prenatal counseling. Call it an ounce of prevention.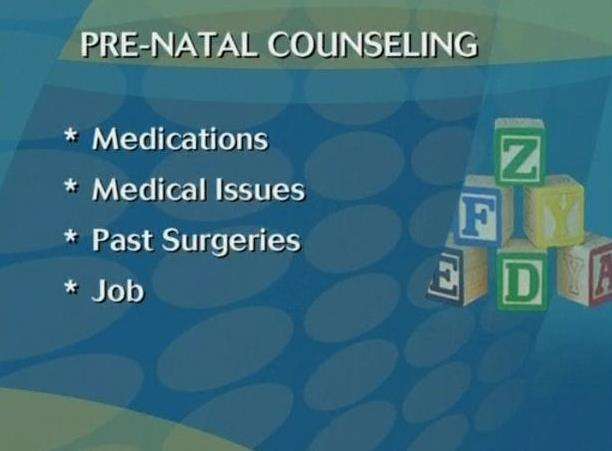 Obstetricians discuss medications you may be taking, medical issues like high blood pressure, previous surgeries, exposures in your job, genetic problems and even what over-the-counter supplements you take.
Jason Baxter, M.D., OB-GYN: "It's frustrating when we're seeing women already into pregnancy that haven't taken care of some of those things ahead of time."
Jason Baxter, M.D., OB-GYN: "You were diagnosed with diabetes very early on pregnancy."
Knowing your history your doctor can make specific recommendations to help you avoid a risky pregnancy.
Jason Baxter, M.D., OB-GYN: "Get rid of the cigarettes, get the diabetes under control."
Doreen is all for making changes that will give her the best chance at having a healthy baby.
Doreen Lafferty: "It's very important. I want to have that experience and I want to have the opportunity to share, share myself with a, with a child. I think I have a lot to offer."
Jason Baxter, M.D., OB-GYN: "Pre-conceptual consults are important. They can save your baby's life, and they can save your own life."
Ideally, every woman would have a pre-conception visit to make sure everything is in order. And don't forget to bring your partner along. We often talk to women about quitting smoking, but it's equally important to consider secondhand smoke in the home. Lots of these changes are a team effort.
×
Most recent News stories