Estimated read time: 1-2 minutes
This archived news story is available only for your personal, non-commercial use. Information in the story may be outdated or superseded by additional information. Reading or replaying the story in its archived form does not constitute a republication of the story.
SALT LAKE CITY -- Members from the organization Mothers Against Drunk Driving and DJs from 103.5 The Arrow served breakfast to a group of police officers Tuesday morning to thank them for helping keep the roads safe.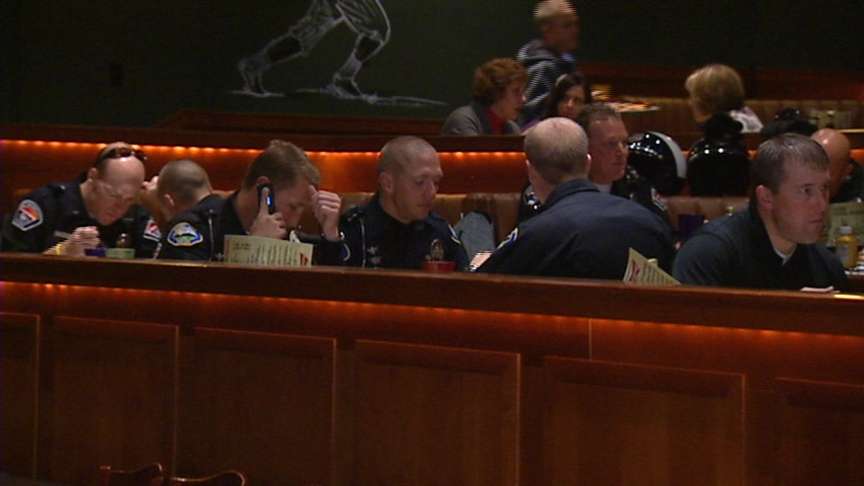 For 25 years MADD of Utah has been doing this and bringing attention to its "Tie One On" campaign -- where red ribbons are tied to cars to remind drivers not to drink and drive.
President of MADD of Utah Art Brown said, "Drunk driving is still a problem in Utah. It's a violent crime. We have 2,700 alcohol-related crashes a year, nearly 2,000 injuries and around 50 deaths, and it's just a tragic way to die, especially when it's all preventable."
---
On average someone is killed by a drunk driver every 45 minutes. -MADD
---
In fact, in 2008, an estimated 11,773 people died in drunk driving crashes nationwide. That accounts for 31.6 percent of the 37,261 total traffic fatalities.
---
A first time drunk driving offender on average has driven drunk 87 times prior to being arrested. -MADD
---
MADD started nearly 30 years ago in California after some girls were killed by drunk drivers. Since MADD started, drunk driving-related deaths have decreased nearly 50 percent, from over 30,000 to under 15,500. MADD claims it has helped save over 383,000 lives since it was founded in 1980.
"In the last year, drunk driving went down 10 percent thanks to the efforts of mothers, fathers, aunts, cousins and police officers," said Sue Kelly from 103.5 The Arrow. "We are getting the word out not to drink and drive."
---
About three in every 10 Americans will be involved in an alcohol-related crash at some time in their lives. -MADD
---
MADD's mission is to stop drunk driving, stop underage drinking and help victims of drunk drivers. This campaign kickoff was not to raise money. It was just to raise support to stop drunk driving.
According to its website, the four-day Thanksgiving weekend is one of the most dangerous holidays for drivers.
E-mail: abutterfield@ksl.com
×
Related links
Most recent Utah stories